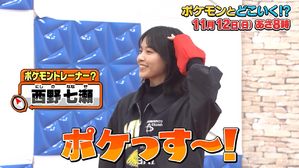 Titles
西野七瀬がポケモンを連れて!?やってきた!! / だいばくはつを防ぐために大奮闘っ!?
Nishino Nanase ga Pokémon wo tsurete!? yattekita!! / Daibakuhatsu wo fusegu tame ni daifuntō!?
Nanase Nishino Has Arrived Alongside Her Pokémon(?!)!! / Working Hard to Prevent an Explosion?!
Airdates
OP/ED List
PokéDoko

Japanese Summary:
西野七瀬がポケモンを連れて!?やってきた!!怪奇!YesどんぐりRPGとだいばくはつを防ぐために大奮闘っ!?人間ロケットボール!?▽スペシャルなポケカ情報も!

近日放送! ポケモンバトル最強決定戦の様子も!

Japanese Summary Translation:
Nanase Nishino has arrived alongside her Pokémon(?!)!! Everyone joins forces with Kaiki! Yes-Donguri-RPG to prevent an Explosion?! And we get human rocket balls too?! There'll also be special Pokémon card news!

And coming soon: The Pokémon Battle Championships!
No notes available for this episode.
Japanese Music:
Music Statistics:
Number of Assigned Tracks to the Japanese Original: 0
Number of Assigned Tracks to the English Dub: 0