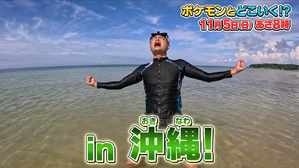 Titles
あばれる君in沖縄! / 沖縄のポケモンセンターにあばれる君が登場! / クイズに『出張ポケもぐ!』も
Abareru-kun in Okinawa! / Okinawa no Pokémon Center ni Abareru-kun ga tōjō! / Quiz ni "shutchō Pokémogu!" mo
Abareru-kun in Okinawa! / Abareru-kun Visits the Pokémon Center in Okinawa! / A Quiz and "Pokémogu Travel Edition" too
Airdates
OP/ED List
PokéDoko

Japanese Summary:
沖縄のポケモンセンターにあばれる君が登場!もふもふで大きなウインディのお手入れが出来ちゃう店舗ならではのイベントに参加!クイズに『出張ポケもぐ!』も♪

沖縄でお馴染みの「鬼餅(ムーチー)」をポケもぐ! かりゆしウェアのコッカーにも注目★☆

Japanese Summary Translation:
Abareru-kun visits the Pokémon Center in Okinawa, where he participates in a store-exclusive event where he takes care of a giant fluffy Windie! There's also be a quiz and "Pokémogu Travel Edition"!

Pokémogu features the Okinawan classic, Muchi! And check out Koccar's kariyushi too!
No notes available for this episode.
Japanese Music:
Music Statistics:
Number of Assigned Tracks to the Japanese Original: 0
Number of Assigned Tracks to the English Dub: 0