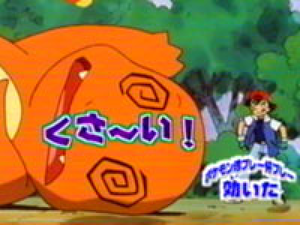 Available On:
2002-11-19 ポケモン珍プレー「効いた~!」 / ランキング「友だちになりたいポケモン」 / R団アルバイト / リクエスト「サトシとピカチュウの友情物語」他
2002-11-19 Pokémon chin play 'kiita~!' / Ranking 'tomodachi ni naritai Pokémon' / Rocket-dan arbeit / Request 'Satoshi to Pikachu no yūjō monogatari' hoka
2002-11-19 Strange Pokémon Plays 'It Worked!' / Ranking 'Pokémon We Would Like To Make Friends With' / The Rocket Gang's Part Time Jobs / Request 'The Story of Satoshi and Pikachu's Friendship', etc.