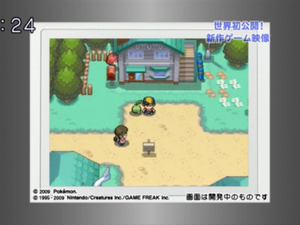 2009-05-10 「でんげきたいけつ!クチバジム」 「ポケダン「パッチールのカフェ」を大調査!」 「しょこたん部長が、ポケサンカンパニーで世界初発表となる最新情報発表!」
2009-05-10 Dengeki taiketsu! Kuchiba Gym / PokéDun 'Patcheel no café' wo daichōsa / Shokotan-buchō ga, PokéSun Company de sekaihatsu happyō to naru saishin jōhō happyō!
2009-05-10 Electric Shock Showdown! Kuchiba Gym / The Great Investigation of the PokéDun 'Patcheel Café' / Announcement of the Latest News: Director Shoko-tan makes a World-first Announcement for the PokeSun Company!
OP/ED List
Pokémon Sunday (Version 5)

No notes available for this episode.
Japanese Music:
Music Statistics:
Number of Assigned Tracks to the Japanese Original: 0
Number of Assigned Tracks to the English Dub: 0