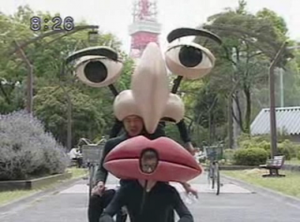 2009-06-14 「トウカジムの危機!家庭の危機!!」「顔戦隊、カオマン!現る!」「ロバートの映画の声優をやらせてほしい!」「"ピカチュウカラーのピチュー"を使って、しょこたんがロバートとポケモンバトル!!」
2009-06-14 Touka Gym no Keiji! Katei no keiji!! / Kao Sentai, Kaoman! Arawaru! / Robert no eiga no seiyuu wo yarasete hoshii! / 'Pikachu Color no Pichu' wo tsukatte, Shoko-tan ga Robert to Pokémon Battle!!
2009-06-14 The Crisis of the Touka Gym! A Family Crisis!! / Face Squadron Kaoman Appears! / Robert Want to Try Voice Acting in a Movie! / Using the 'Pikachu-colored Pichu', Shoko-tan engages Robert in a Pokémon Battle!!
OP/ED List
Pokémon Sunday (Version 5)

No notes available for this episode.
Japanese Music:
Music Statistics:
Number of Assigned Tracks to the Japanese Original: 0
Number of Assigned Tracks to the English Dub: 0