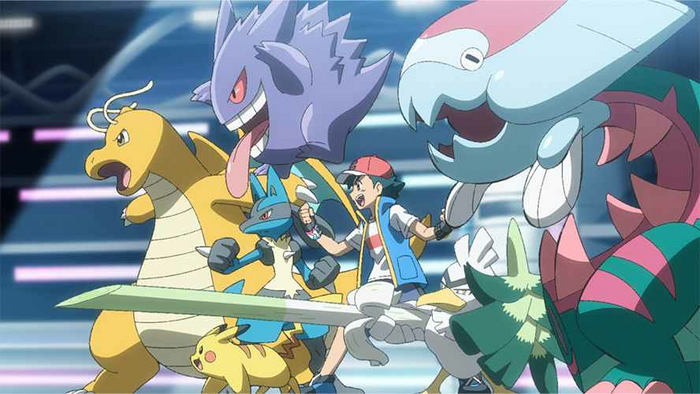 In the anime Pocket Monsters, Satoshi is participating in the Masters Tournament of the Pokémon World Championships, a tournament to determine the greatest of Pokémon Trainers! To commemorate this, a campaign will be held to get Satoshi's Pokémon in Pokémon Sword and Shield.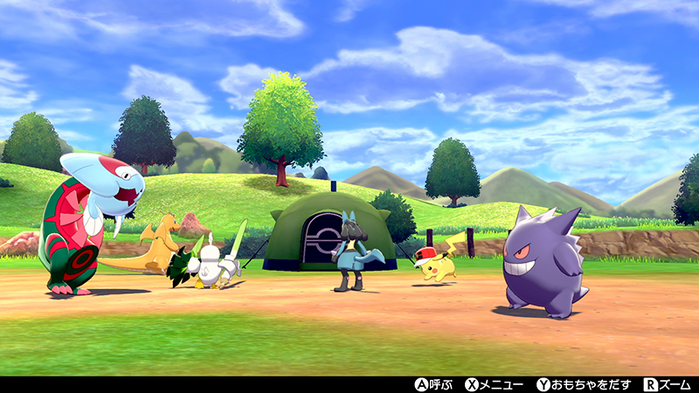 From August 12th, 2022 to September 16th, 2022, the campaign will reveal a password each week during the broadcast of the TV anime Pocket Monsters that will allow players to receive Satoshi's Gangar, Satoshi's Kairyu, Satoshi's Lucario, Satoshi's Negigaknight, and Satoshi's Uonoragon in Pokémon Sword and Shield! Don't miss it!
Players can also get Satoshi's Pikachu (World Cap) by attending a showing of one of the movies in the
Get a summer of memories! The 25th Anniversary Pokémon Film Festival
from August 11th, 2022 to September 8th, 2022 at theaters nationwide in Japan.
Date and Distribution Times: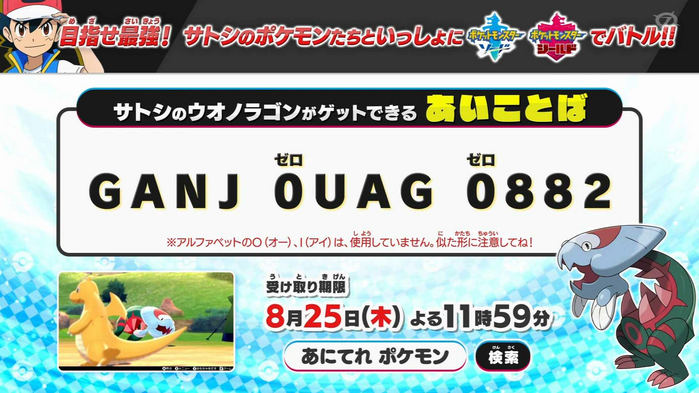 Satoshi's Uonoragon
Scheduled Broadcast Date of Code: Friday, August 12th, 2022
Serial Code Expiration Date: August 25th, 2022
Serial Code:
GANJ 0UAG 0882
Satoshi's Kairyu
Scheduled Broadcast Date of Code: Friday, August 26th, 2022
Serial Code Expiration Date: September 8th, 2022
Satoshi's Gangar
Scheduled Broadcast Date of Code: Friday, September 2nd, 2022
Serial Code Expiration Date: September 15th, 2022
Satoshi's Negigaknight
Scheduled Broadcast Date of Code: Friday, September 9th, 2022
Serial Code Expiration Date: September 22nd, 2022
Satoshi's Lucario
Scheduled Broadcast Date of Code: Friday, September 16th, 2022
Serial Code Expiration Date: September 29th, 2022
Dex Screenshots:
Sources:
https://www.pokemon.co.jp/info/2022/08/220805_cm01.html
and
https://www.tv-tokyo.co.jp/anime/pocketmonster/news/index.html#230707
Last edited 12 Aug 2022 09:04 AM by
ForumBot