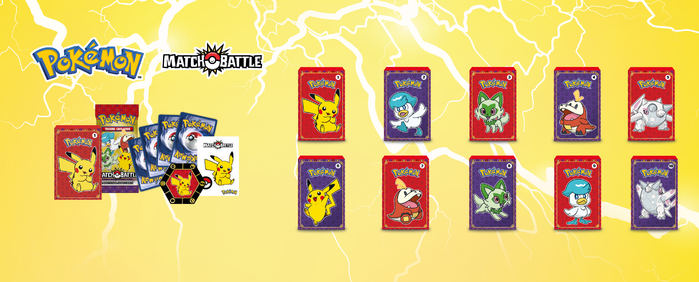 The McDonald's Happy Meal in the United States will feature a
Pokémon Match Battle TCG pack
from September 12th, 2023 until October 16th, 2023. Each toy comes with a Pokémon coin and sticker sheet plus 4 trading cards.
Source:
https://www.happymeal.com/
Pokémon TCG: Match Battle Returns to McDonald's Happy Meals
Collect special Pokémon TCG booster packs and play a fun battle game in the latest Happy Meal.
Be prepared for some friendly Pokémon competition to break out at McDonald's as the Pokémon Trading Card Game: Match Battle returns to the restaurant's Happy Meal. Through October 16, 2023, Pokémon fans who purchase a Happy Meal will receive everything they need to take part in a fun and easy-to-play Match Battle. This includes a special 4-card Pokémon TCG booster pack and a game coin featuring either Pikachu or a fan-favorite Pokémon from the Paldea region.
The cards found in the booster packs feature Pokémon including Pikachu, Sprigatito, Quaxly, Fuecoco, Klawf, Cetitan, and more. There are 15 cards to collect, so trade with your friends and see how many you can find!
The Happy Meal also includes a digital activity that's accessible through a QR code on the Happy Meal box or at happymeal.com that lets you solve puzzles featuring some of the Pokémon you'll find on the Pokémon TCG: Match Battle cards. Test yourself to see how quickly you can defeat each challenge.
Have fun battling, Trainers!
Source:
https://www.pokemon.com/us/pokemon-news/pokemon-tcg-match-battle-returns-to-mcdonalds-happy-meals
Cards:
Last edited 20 Sep 2023 06:48 PM by
ForumBot