The official Pokémon movie website has updated with the fifth part of the coverage of Yuyama's location scouting report, as well as information on this year's Meitetsu movie tie-in campaign. Translations follow:
Director Yuyama's Location Scouting Report
This time, Director Yuyama chose Canada as the country he would go scouting in. He went there in search of the landscapes where Yveltal would sleep, where Xerneas would hide, and Diancie would journey.
The scouting team take a walk along the side of the Rideau Canal, an area referred to as the "Rideau Heritage Route". Lots of sluices can be found throughout this area; due to the 25 meter height difference between the canal and the Ottawa River that lies beyond it, a complex structure of numerous sluices has been set up to adjust the water level.
A ship was setting off down the canal just as we arrived, and three nearby sluices were just about to open. We also saw the nearby bridge over the canal turn aside. Amazingly enough, there's a mechanism that makes the bridge move when a ship approaches. While this was going on, the bridge got closed to crossing cars for about 10 minutes.
At this time during fall, this scene only occurs once a day at a non-predetermined time, so we were very lucky we got to witness it.
For earlier parts, please go here:
Part 1
Part 2
Part 3
Part 4
The Meitetsu Stamp Rally 2014 Spring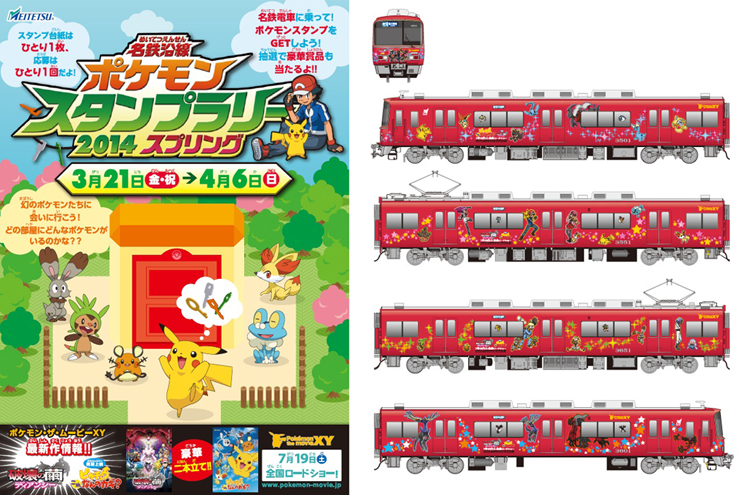 Once again, a stamp rally will be held along the Nagoya Railroad ("Meitetsu"). During the "Meitetsu Stamp Rally 2014 Spring", children can gather stamps from 5 different locations along the railroad and use these to enter a lottery for great prizes. The more stamps you collect, the better prizes you can win. The 5 stamps can be found at the Meitetsu Ichinomiya Station Service Counter, the Inuyama Station Service Counter, the Pokémon Center Nagoya, Chiryu Station and Centrair International Airport. The stamp rally is held from March 21st to April 6th.
Like earlier years, a train sporting designs based on the upcoming Pokémon movie will also be running along the Meitetsu. The train running this year has been dubbed "The Pokémon XY". A video of the train in action can be found
here
, thanks to Youtuber suita66271050.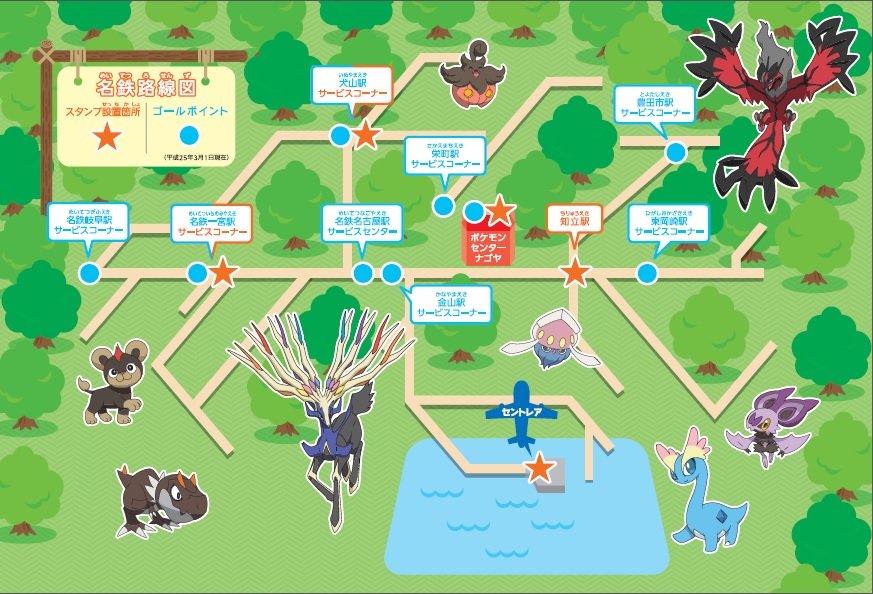 Collecting the stamp from the Pokemon Center Nagoya as well as one other location makes you eligible for two lotteries. 130 winners will receive a set of Pokémon-themed school supplies, while 20 winners will receive a set of 5 Pokemon plushies. Collecting all 5 stamps makes you eligible for the final lottery, where 5 winners will receive a Pocket Monsters X/Y Nintendo 3DS game. In addition, everyone who collects all 5 stamps will receive a special sticker.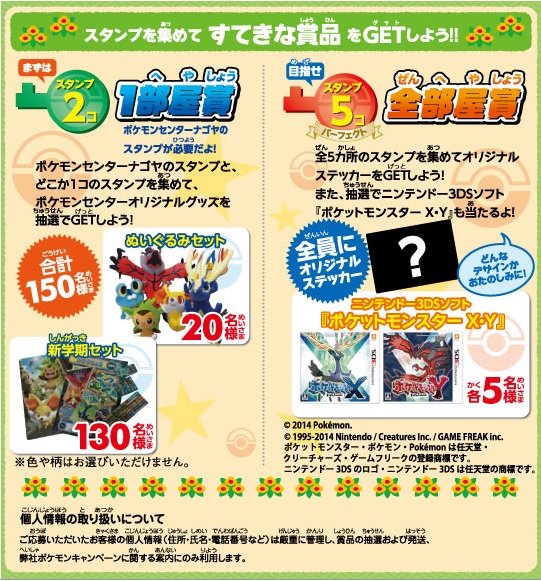 Source:
http://www.pokemon-movie.jp/locahan_report/
,
http://www.pokemon-movie.jp/news/?p=1171
and
http://www.meitetsu.co.jp/recommend/catalog/pokemon.html