The official Pokémon movie blog has updated. Translations of the new entries follows:
Event Report #8: Congratulations! All 600 questions have been answered! And we got more than 10000 participants! A report on "Hoopa's Appear! Quiz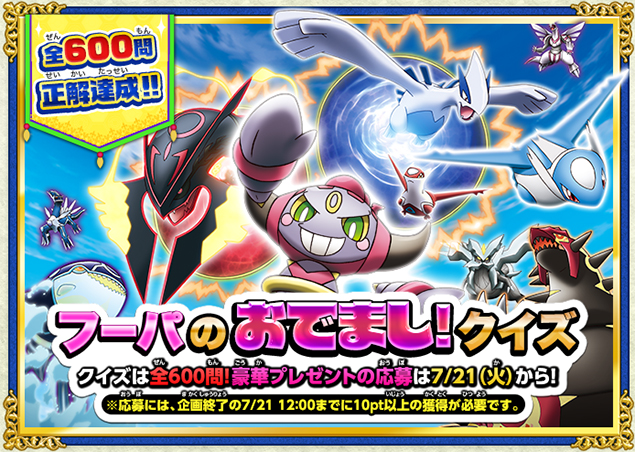 "Hoopa's Appear! Quiz" has been livening up the official movie site since June!
Since someone has managed to give the correct answer to every single question in the quiz, we're going to give out the magnificent "pure gold Pikachu" as a prize!
Congratulations, participants!
The "pure gold Pikachu" is still in the process of being made, but since the prototype is done, we'll now unveil that!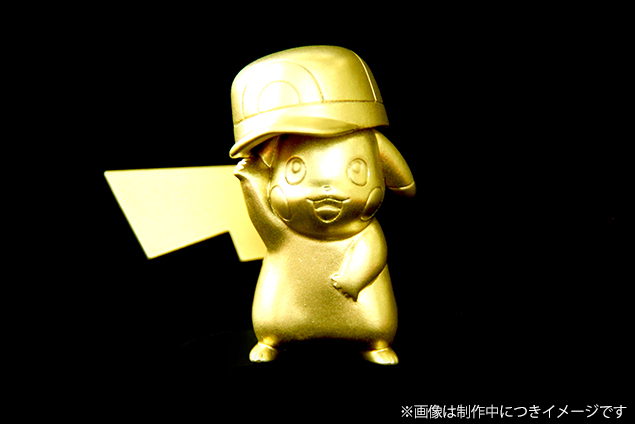 It's a Pikachu striking an adorable pose while wearing Satoshi's hat!
This Pikachu will be given to one randomly selected applicant as part of a set with a case and pedestal, complete with a plaque with the "The Archdjinni of Rings: Hoopa" logo chiseled in.
All participants have a chance to win this "pure gold Pikachu"! Even if you haven't participated yet, you'll still be able to apply for it! The condition for applying is that you must have 10 points or more by the deadline at noon July 21st.
There are some very easy questions in the quiz too, so make sure to participate!
Also, the team battle from here on until the end will be intense!
In this battle, the gifts you can apply for changes with your team's rank!
Let's first go over what the prizes are again: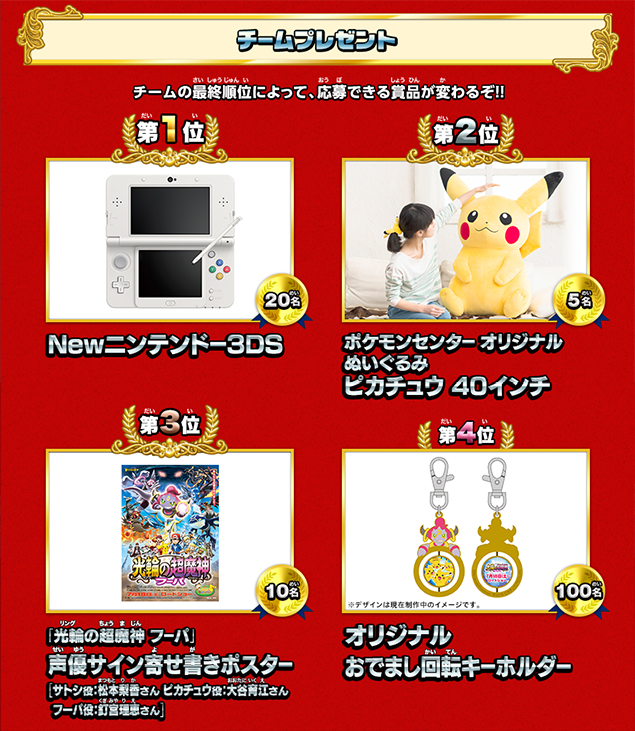 1st Prize: A New Nintendo 3DS
(20 winners)
2nd Prize: An original Pokémon Center Plushie: "40 Inch Pikachu"
(5 winners)
3rd Prize: A "The Archdjinni of Rings: Hoopa" poster signed by the voice actors (Rica Matsumoto, voice of Satoshi, Ikue Ohtani, voice of Pikachu, and Rie Kugimiya, voice of Hoopa)
(10 winners)
4th Prize: An original "Appear!" rotating keychain
(100 winners)
Wooow, such extravagant gifts!
We've already prepared the signed posters!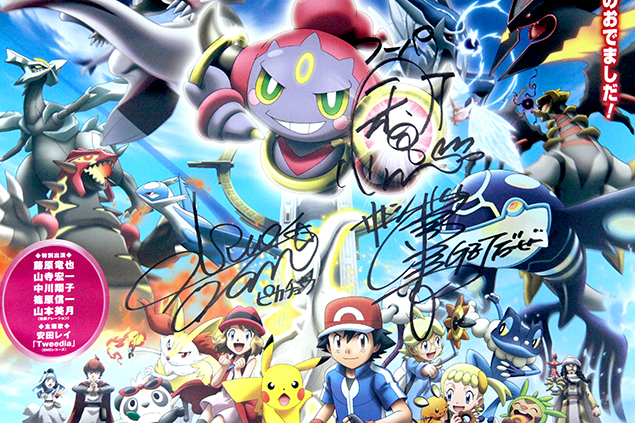 It may look like there's a big difference in points between the teams, but there's still a chance for a turnaround!
There's currently over 10000 participants, and the difference between the teams in second and third place is just about 200 people.
A team that has 2500 members can increase their score by up to 7500 points in just one day!
There's still a chance to turn things around, so invite your friends and add more members to your team!
The results of the team battle will be finalized at noon July 21st!
The quiz has questions from "The Archdjinni of Rings: Hoopa", which is right aroun the corner, too!
Enjoy Hoopa's Appear! Quiz till the very end!
Quote Central: Memorable Lines from Pokémon Movies #13
Satoshi, everyone, I shall permit you to accompany me on my journey.
-Diancie,
"The Cocoon of Destruction and Diancie", 2014
When Satoshi asks Diancie, who is about to continue her journey in search of the legendary Pokémon Xerneas, "Could we go with you?", she replies with this line.
This quote was submitted by "Hidemi".
Thank you for your contribution!
Tomorrow, Thursday July 16th, last year's blockbuster "The Cocoon of Destruction and Diancie" and the short "Pikachu, What Kind of Keys are These?" will be broadcast for the first time ever anywhere!
It will air on the TV Tokyo Network at 7pm! Don't miss it!
We want to hear your "Memorable Lines from Pokémon Movies"
We are now taking suggestions for "Memorable Lines" from past Pokémon movies!
We want
your
favorite "wise words", "inspired sayings"... or even utter nonsense.
To send in a suggestion, choose "Quote Central" from the
Apply
page and list the following:
"Movie title" - "Name of character or Pokémon that said the line" - "The line itself"
In addition, please also list "Roughly when in the movie the line is spoken (how many minutes in)" if you know this before submitting.
Submitted content will be chosen for publication by the official Pokémon movie site. Not all submissions will be published.
In addition, please understand we may edit the submitted text to make it easier to read.
Appear! Movie Details #10: A Special Movie Pre-Premiere Interview with Director Yuyama #2
We are interviewing Director Yuyama about "Pokémon the movie XY: The Archdjinni of Rings - Hoopa/Pikachu and the Pokémon Musicians", which premieres this weekend!
In this second part, we ask him about production secrets regarding "Pikachu and the Pokémon Musicians"!
Q: We heard that because this is "Pikachu and the Pokémon Musicians", almost all the music is made up of the sounds of Pokémon voices?
For that reason, the movie doesn't have a score, yes.
For the title sequence, we got LGM (Little Glee Monster, performers of the theme song) to sing a cappella, so while this is the only scene in the movie with a score, the score here is nothing but voices too, consisting purely of a chorus.
Since the Pokémon are "Musicians", there are parts where they each act as specific instruments, though if we think of their cries as singing, it turns into song. Or rather, vocal percussion.
It's all voices, all through the entire movie.
There's sound effects, though.
Q: What kind of story is "Pikachu and the Pokémon Musicians"?
The story concerns a concert being held in concurrence with "Berry Blossoming", this harvest festival-like celebration they have in the Pokémon's forest. However, various trouble occurs, so this quick little story plays out before "Berry Blossoming" can start.
Songs get sung throughout the tale, so it can be enjoyed as a musical.
Q: This short seems packed with new things you're trying out, and it's really something to look forward to. Can you say a few words to the audience that are going to be watching "Pikachu and the Pokémon Musicians" in the theater?
The Pokémon are all happily singing together, so I'd like you to sing and dance along in the theater as well.
The Narrator, Mizuki Yamamoto, sings along too.
It'd make me very happy if I made the children in the theater suddenly burst into song together.
Since even we, the people who made this short, couldn't picture how it would turn out, the audience won't really be able to either. What
does
Pokémon singing sound like? You're in for a fun surprise at the theater.
Lots of nostalgic Pokémon will appear in the short too, so there's something else to look forward to!
In part 3, we'll ask about the highlights of the feature film, "The Archdjinni of Rings: Hoopa"!
Sources:
http://www.pokemon-movie.jp/pokemovie_ch/?p=1352
,
http://www.pokemon-movie.jp/pokemovie_ch/?p=1341
and
http://www.pokemon-movie.jp/pokemovie_ch/?p=1281