The official Pokémon movie blog has updated.
We have added a section collecting every single blog entry for easy browsing
. Translations follow:
Event Report #9: Summer Means Pokémon! A Report from the Premiere Day's Stage Greetings: Part 1
Summer means Pokémon!
The premiere day for "Pokémon the movie XY: The Archdjinni of Rings: Hoopa/Pikachu and the Pokemon Musicians" is finally here!!!
We're making a report from the premiere stage greetings held at TOHO Cinemas Nichigeki 2 at the movie's premiere date!
It was a bustling stage greeting filled with laughter and surprises!
We will give a status report on it across two separate reports!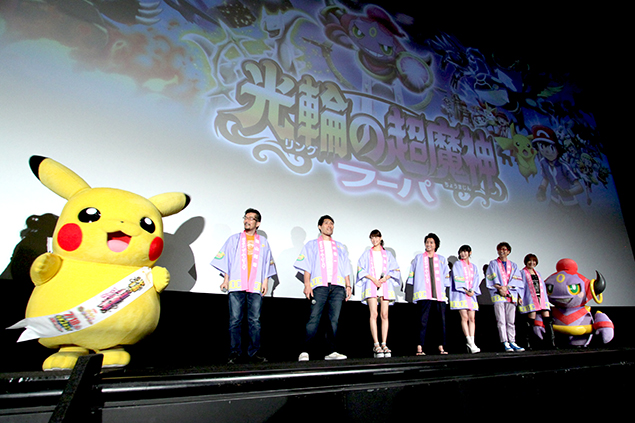 First of all, Pikachu and Hoopa came on stage.
They were then followed by the movie's guest voice actors, with Tatsuya Fujiwara in the lead!
Satoshi's voice actor Rica Matsumoto and director Yuyama came on as well!
All of them were dressed in coats colored like Hoopa.
Once they had all come onto stage, it was announced that today, with the premiere of the 18th Pokémon movie, the total attendance for the entire movie series had exceeded 70 million people!
It was then time to welcome this commemmorative movie premiere with individual greetings!
First up was director Yuyama's greeting!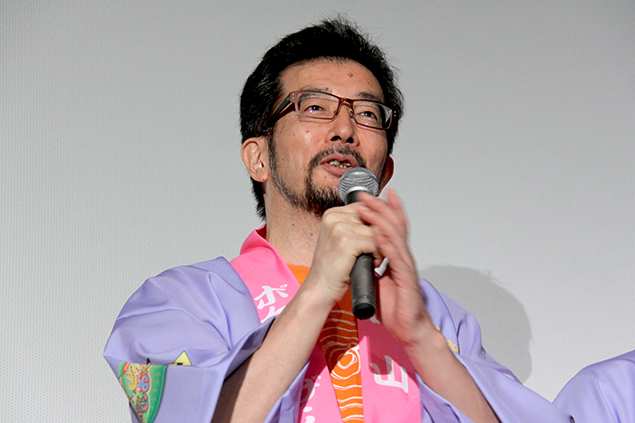 70 million people and 18 years are both really huge numbers, but it's because people come watch our movies that we've been able to keep making them for 18 years now.

In this year's movie, lots of legendary Pokémon from earlier movies appear, so you can call it a huge stack of 18 year's worth of material; However when it comes to legendary Pokémon, which Pokémon the audience like differs between which generation they're from.

For me personally, the scene where Lugia first appears gave me this feeling of happiness while I was working on it...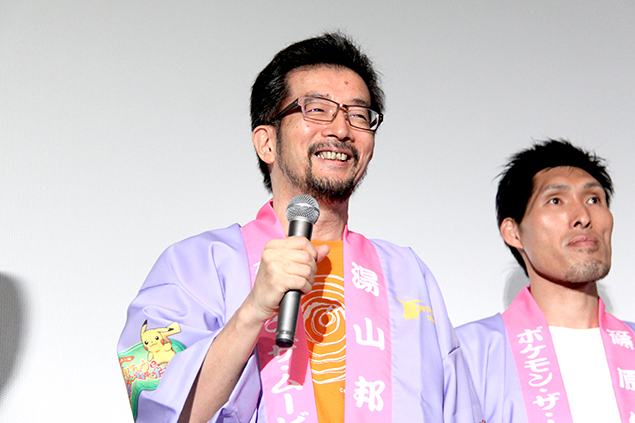 When he says this, he's met with applause from the hall.
Lugia's first reappearance in 16 movies is met with standing ovation!
I also have to mention the short. Creating music with Pokémon cries is something I've always wanted to do. It's something I wasn't quite able to make happen for 10 years now, so it made me extremely happy I could do it this year.

This short could only be completed because the voice actors who are recording Pokémon voices weekly (for the TV series) made me understand that this is what Pokémon should sound like. I truly hope you'll enjoy this movie that's filled with 18 years' worth of experiences.
In another interview
, Director Yuyama said you could call the movie a culminaton of 18 year's worth of material.
These greetings truly get people interested in the movie's highlights.
Next up is Satoshi's voice actor Rica Matsumoto! And of course, she greets the audience with...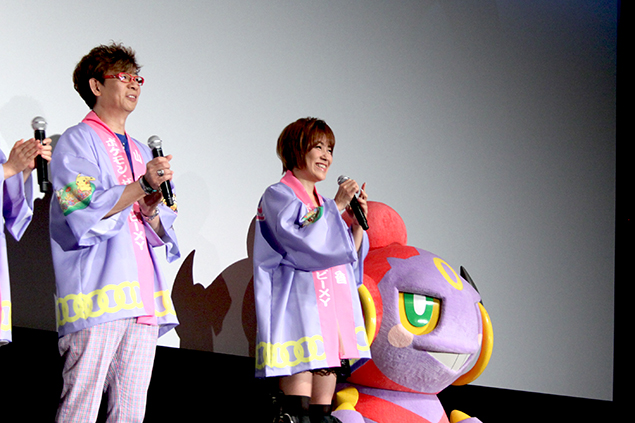 "I got a Pokémon!"

I am Rica Matsumoto, voice of Satoshi, and I've been saying this line for 18 years now!
Every year I work my hardest so that I can see all your smiles in the theater like this.

70 million attendants total for the series is an amazing number, isn't it?
It's more people than you'd ever meet during a normal lifetime.
Thinking about it made me once again realize how grateful I am that I'm able to bring smiles to so many people's faces.

Let's aim for a 100 million! Deal?
Next up was the voice of Barza, Tatsuya Fujiwara.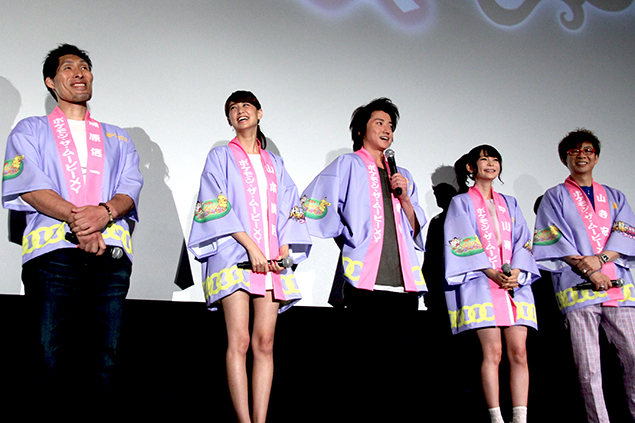 I almost had my role as Barza stolen by Shinohara-san many times,
(
see the report from the public dubbing
)
but I won my way through the audition and was specifically allowed to get it (laughs), and as such got to play an important character in the movie.

As I'm now part of a movie series with an 18-year-old history, one that's dearly beloved by many children, I feel like I've appeared in something I'll remember fondly when looking back later in life.
I'm also really happy I wasn't robbed by Shinohara-san...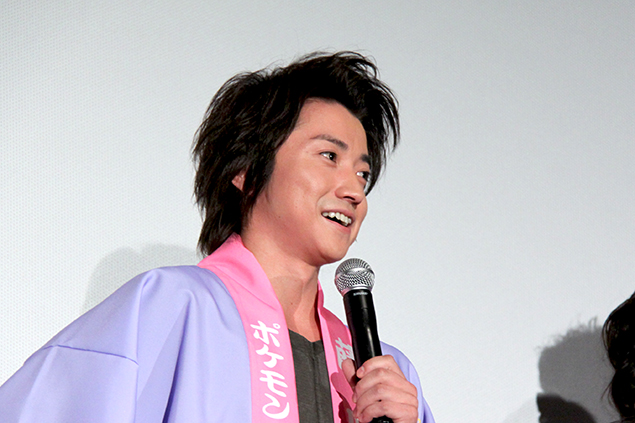 During the public dubbing, Fujiwara nearly had his role as Barza stolen from him by Shinohara, so he's getting back at him now by laughing about it!
Next up is Koichi Yamadera!
Yama-chaaan, Aa-pee-eee-ear for the 18th time!!
Yamadera then greets the audience with his famliar "OHA!" as well.
This is his 18th consecutive movie role, so you might as well call him "Mister Pokémon" by now... or at least the moderator Announcer Aiuchi from TV Tokyo thinks so, but as Yamadera turns down that title,
Rica Matusmoto interrupts, going
"So you're MistAKE Pokémon, then?"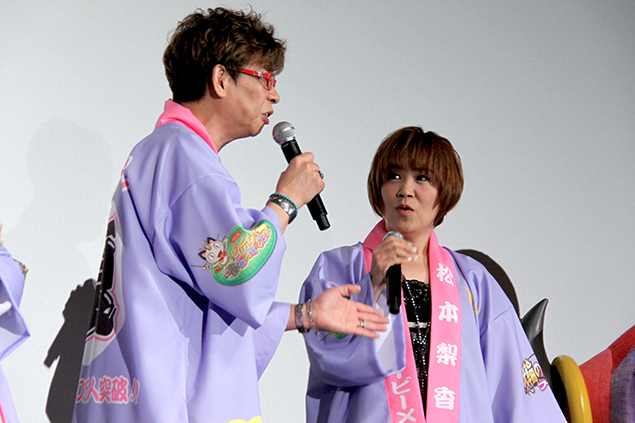 Yamadera:
"What is that supposed to mean!? ...Well, (Rica and I,) we're on good terms... yeah.

See, every time an offer like that comes, I get all nervous..."
Rica:
"Every time an OHA! comes??"
Yamadera:
"No, I did an OHA! just now and that went ok... now I forgot what I was going to say!"
Yamadera and Rica play off each other as if this is a comedy skit.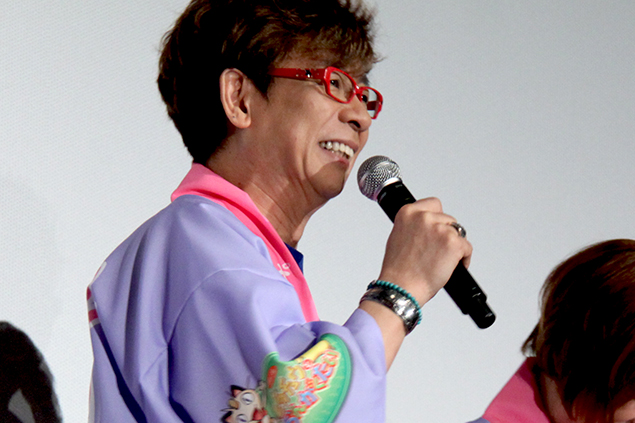 70 million people, that's more than the entire population of Italy, more than the entire population of Britain, more than the entire population of France!
We've been delivering smiles and excitement to even more people than live in those countries.
I think these movies have turned into something it just won't be a real summer without!
Next, Shoko Nakagawa calls out the familiar greeting "Pokessu!" from "Pokémon Get TV", which airs Sundays at 7:30am, into the audience and gets the same greeting back!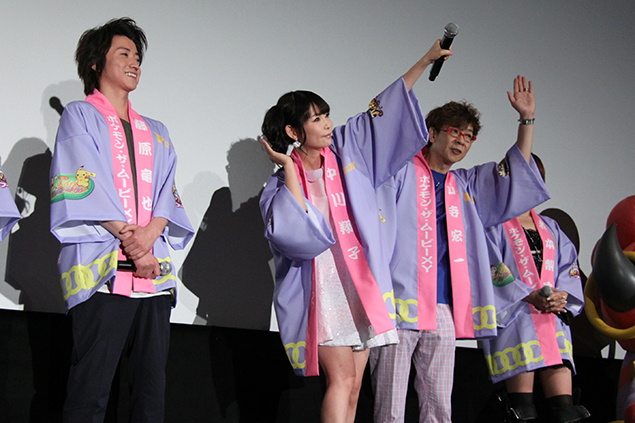 This is Shoko Nakagawa, who's bubbling over with love for Pokémon!
Delight, love, dreams, courage and infinite happiness!
I am so extremely grateful for the Pokémon movies that teach us these things!
Thank you sooooo much for this premiere!

This year, Pikachu-sama is this amazing, extreme hunk of a guy! It fights side by side with legendary Pokémon, riding on top of of one of them all by itself; nothing has ever carried this must charismatic energy ever before!
It's exceeded level 100! It's so incredible! It's so cool!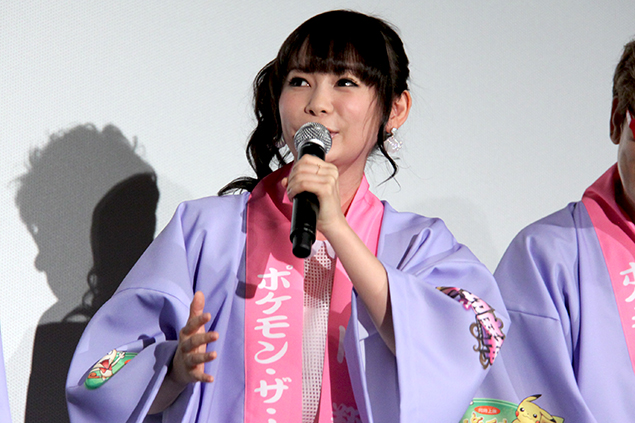 This year's movie truly is a legendary festival! It's a rush of legends, an onslaught!
Just like Director Yuyama said, all these nostalgic legendary Pokémon appear in the movie as well, and when they did, these feelings, these memories of when I went to see those movies hit me like whoosh!
Each and every one of those Pokemon has a full, dramatic story to it, and all of them can be linked to parts of my own life!
Adults watching this movie will have these scenes from their childhood suddenly well up inside their heads like whoosh, truly giving them rewards to carry with them through their lives! It's that amazing a movie! Yeah!
Next up: Shinichi Shinohara in his first ever voice acting role, playing Hippopotas!
"The Archdjinni of Rings: Hoopa".
This movie is supposed to be the culmination of 18 years worth of material.
What remains in our minds after all those years is Hippopotas.
Don't forget Hippopotas, now!
Ok, let's do that usual thing now, come on!
Huh? You don't know it? It's "Hippossu."

OK! GET READY! AAAAND... HIPPOSSU!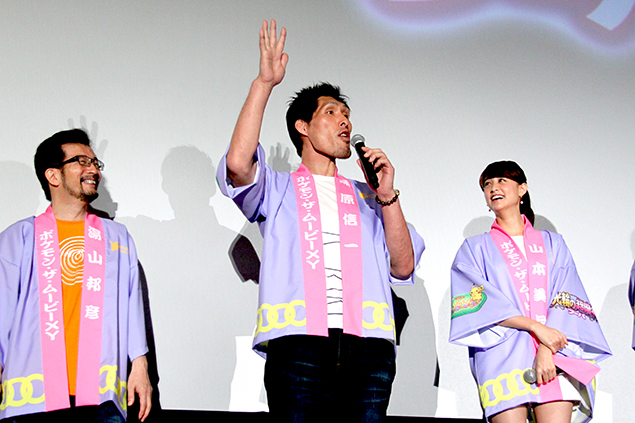 Shinohara's aloof way of talking turned the place into a veritable Shinohara theater for an instant!
We then asked him what he'd want to play next if he got cast in another Pokémon movie. Would it be a Pokémon? A hot guy?
See, I can do everything.
For example,

"Hooo-paaa strooooong!"
, he said, playing the role of Super Hoopa.
"Hey, stop that! You're after all our roles!"
, Yamadera said.
Then,
"Mary, why are you..."
, he said in his unique Barza voice.
Then,
"Pika Pikachu"
, he said, even showing off a Pikachu voice.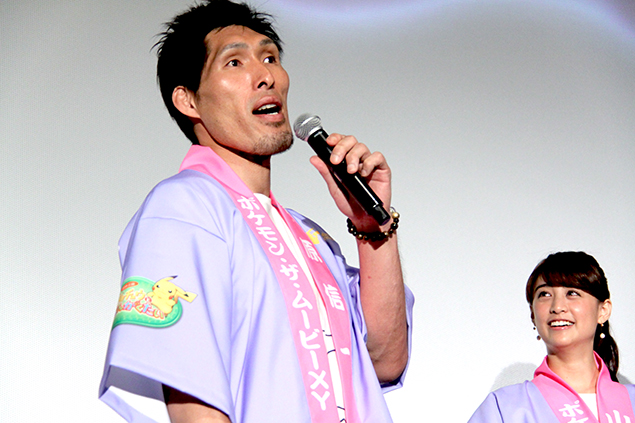 He was then followed by Mizuki Yamamoto, who provides the narration for the short.
I remember dancing to Pokemon songs at Sports Day back when I was in first grade.
Pokémon has been close to me since I was very little, and it makes me extremely happy to be able to work with it on this level I am now.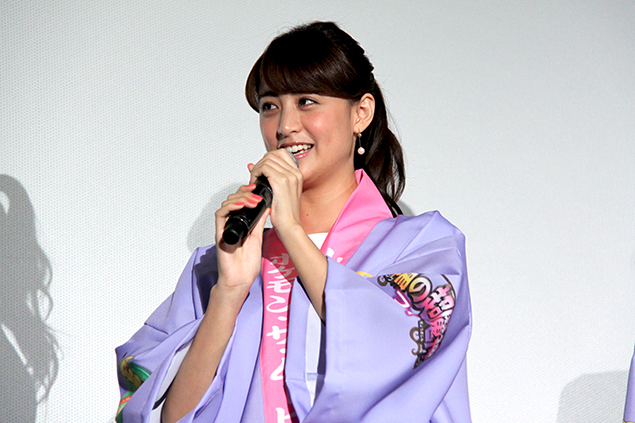 When I heard that Pikachu over there talk a little while ago, it actually moved me to tears!
Mizuki unintentionally gets caught up in her emotions!
I watched this as a regular audience member as well, which made me feel the same happiness as the people in the Pokemon world felt.

Thank you so much for all you've done for me, Pikachu
, Mizuki says, her voice filled with gratitude,
and Pikachu lets out an embarrassed
Pii-kaaa!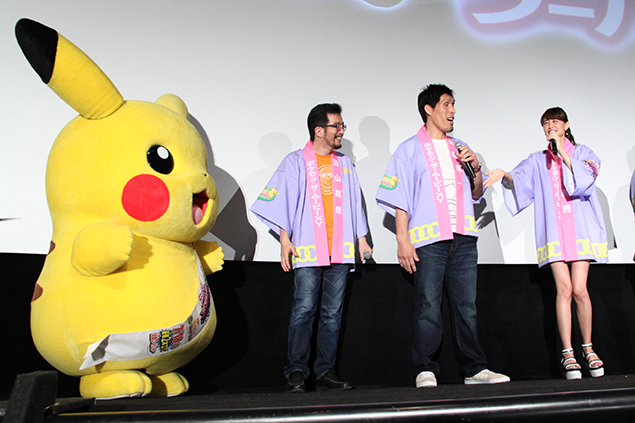 I'm so happy I get to celebrate this day together with Pikachu!
In the short "Pikachu and the Pokémon Musicians", Mizuki Yamamoto sings together with Pikachu and the other Pokémon!
Announcer Aiuchi asks the audience, who have already seen the movie, what they thought of it, and is met with sound applause!
I was extremely nervous about all this, so thank you so much for listening to me!
,she says, having been moved to tears by the entire episode.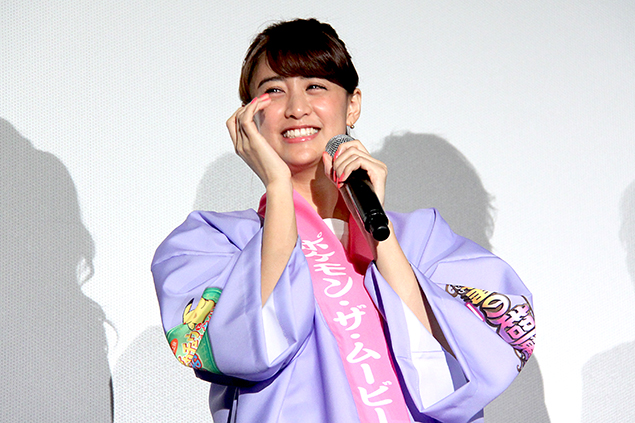 Pikachu then started talking eagerly to announcer Aiuchi from TV Tokyo, the moderator of the stage greetings.
What is it, Pikachu?
To be continued in part 2!
Source:
http://www.pokemon-movie.jp/pokemovie_ch/?p=1437