The official Pokémon movie blog has updated.
We have added a section collecting every single blog entry for easy browsing
. Translations follow:
Event Report #10: Summer Means Pokemon! A Report from the Premiere Day's Stage Greetings: Part 2
We're making a report from the premiere stage greetings held at TOHO Cinemas Nichigeki 2 at the movie's premiere date!
We will give a status report on it across two separate reports!
Part 1 can be found here!
Mizuki Yamamoto was finishing her greeting, when suddenly...!
Pikachu started talking to the event's moderator, announcer Aiuchi from TV Tokyo, about something!
Pikapikaa! Pikaachu!!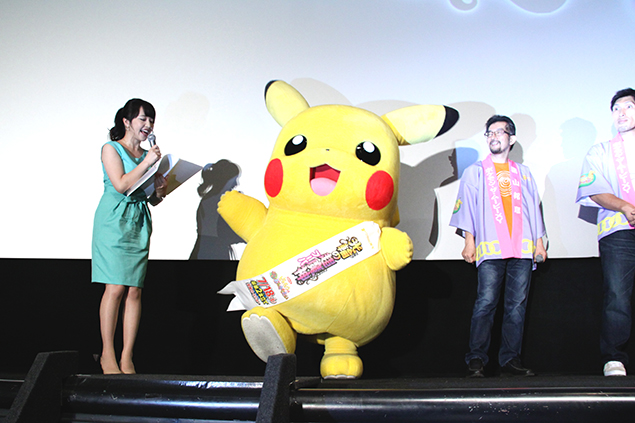 What about today? Oh! It's Mizuki Yamamoto-san's birthday!
Incredibly, July 18th isn't just the premiere date for the Pokémon movie, it's also Mizuki Yamamoto's 24th birthday!
It's a true miracle that these two anniversaries coincidenally overlap!
Announcer Aiuchi:
"Congratulations! I wish you a wonderful 24th birthday!"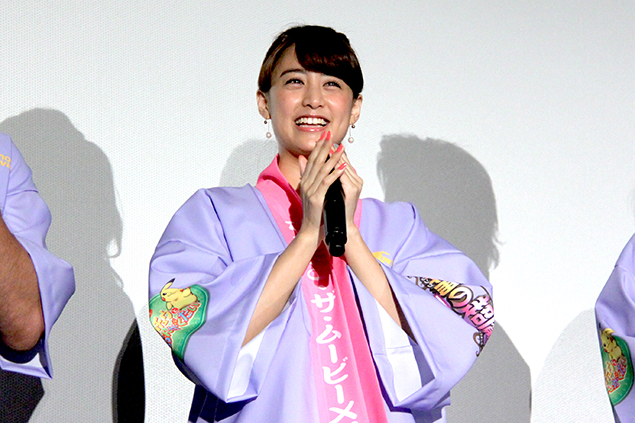 I am truly happy to be able to greet this day together with Pokemon! Thank you so much!
She receives a thunderous applause from the audience!!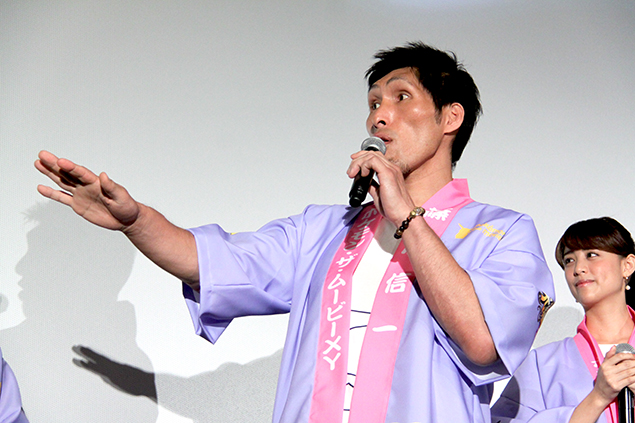 HEY HEY HEY, WAIT A SECOND!

Is this all!?
Normally you provide a cake or something, don't you? Right? Come ON, guys!
Shinohara says this, pointing out that this is way too simple a celebration for such a momentous day.
Despite that, it's plain impossible to get something ready that quickly...
But then!
Fujiwara:
"...We have Hoopa here."
That's it! Hoopa can make anything and everything "Appear!" from its "rings"!
But will it really be able to do something like this?
Pikachu:
"Piika? Piikachu, Pika?"
Announcer Aiuchi:
"Pikachu just asked Hoopa if it could, but..."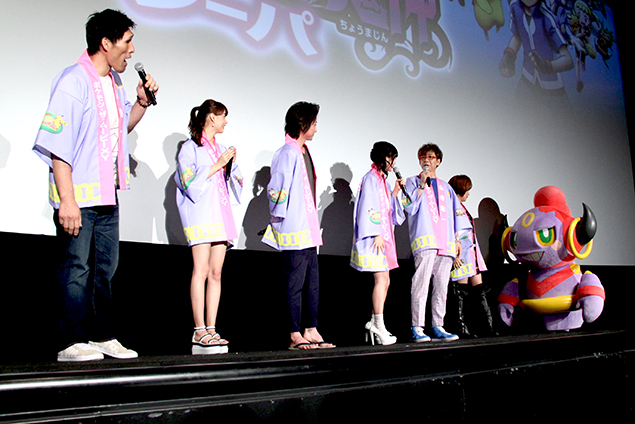 Hoopa:
"All right! Hoopa can do anything! Hihihi!"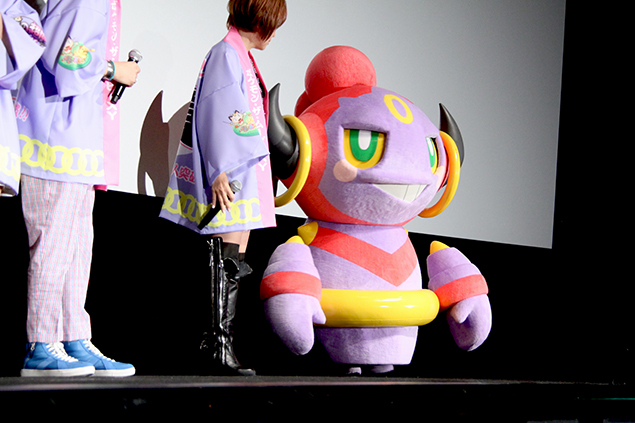 Appeaaaaar!
......
Happy birthday to you!
Suddenly, a high quality, live birthday song can be heard sung from the stage wing!
Happy birthday, dear Mizuki-saan!
Incredibly, what Hoopa made "Appear!" was all the members of Little Glee Monster, the performers of the theme song for the short "Pikachu and the Pokémon Musicians", as well as a giant, specially made birthday cake!!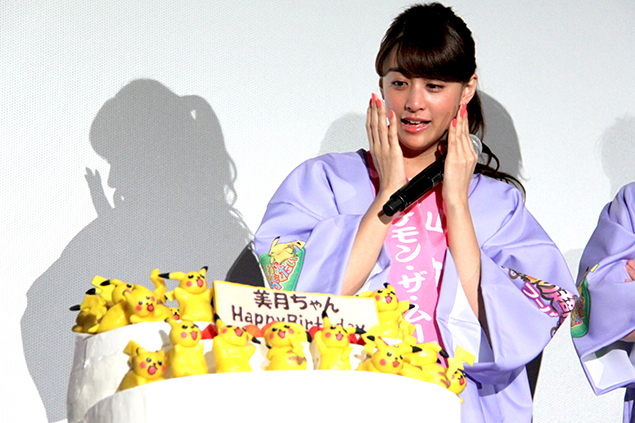 Mizuki Yamamoto is completely unable to hide how surprised she is!!
Hihihi! Did Hoopa startle you?
, Hoopa says!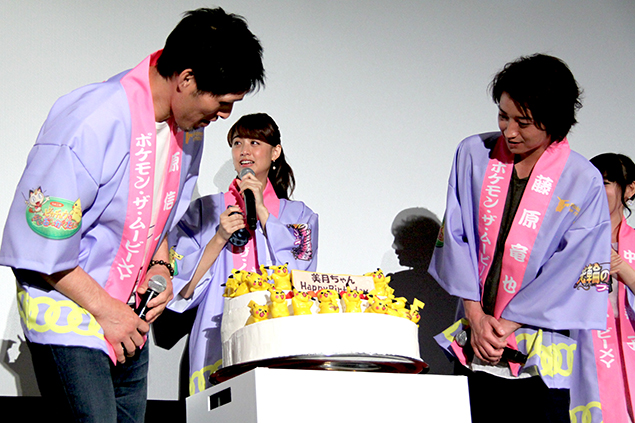 In honor of her 24th birthday, this specially made birthday cake is decorated with 24 Pikachu!
Even the other guest voice actors got surprised at that!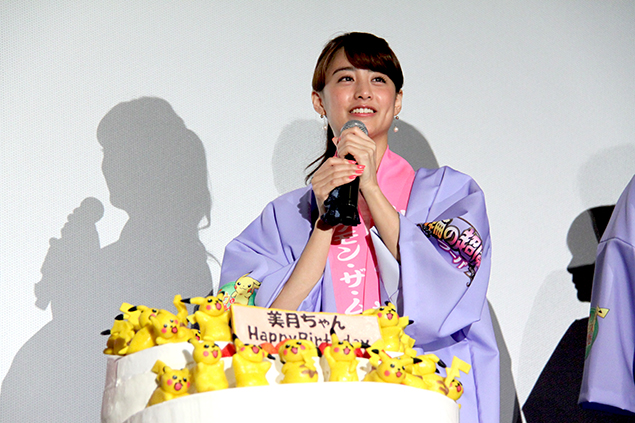 I'm so happy right now!
Out of the 70 million people who have watched Pokemon movies so far, I think I'm the happiest of them all! Thank you SO much!
I want to keep loving Pokémon forever!
Announcer Aiuchi:
"Since everyone from Little Glee Monster went through the trouble of coming here, we'll now let them sing the short's theme song "Gaogao All Stars""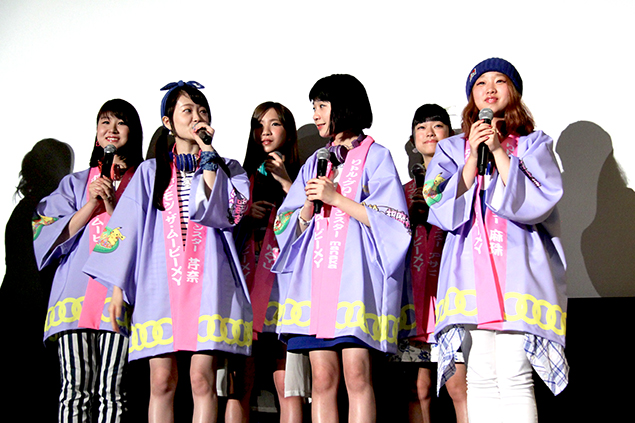 Serina from Little Glee Monster:
"Mizuki Yamamoto-san, everyone in the audience, please sing along with us!"
Announcer Aiuchi:
"All right, let's get ready!"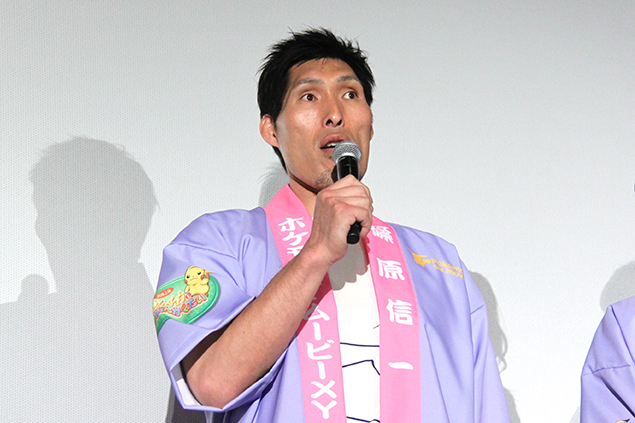 Shinohara:
"All ready!"
Shinohara gives an awfully cheery response!
Does he have his eyes set on the short's theme song too!?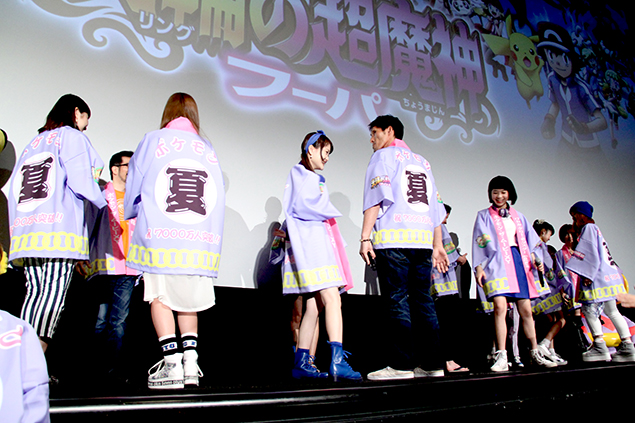 The Big Glee Monster Shinohara takes the center!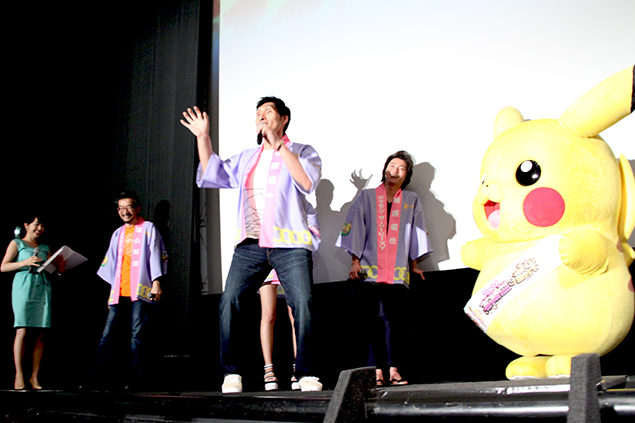 However, when the song begins, the dancing gets too hard for him and scares him off!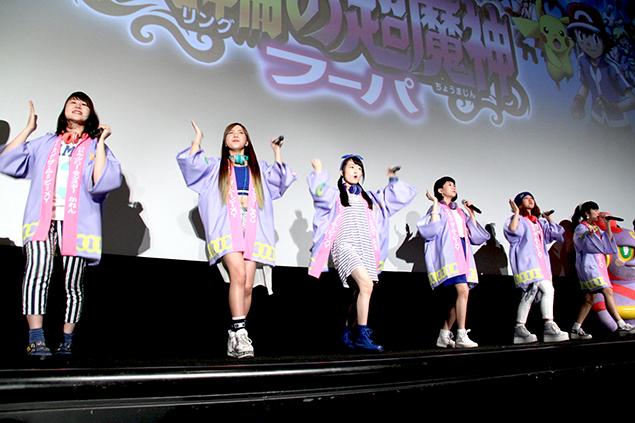 MONSTERS! MONSTERS! OH YEAH!!!!!!!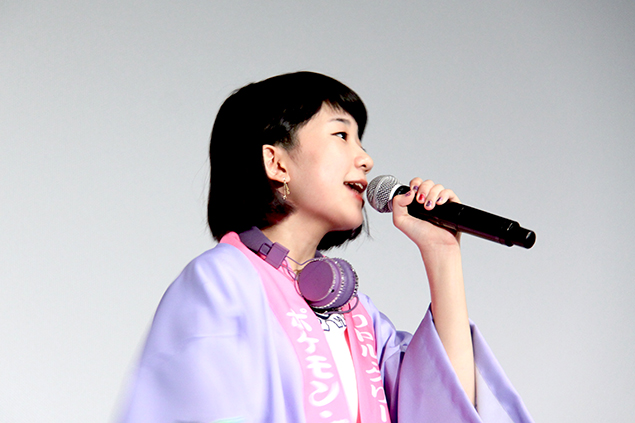 Clap, clap, let us all
Clap our hands together, everybody
The audience has already seen the movie, so they act like "Pokémon Musicians" themselves!
The entire room clap their hands together along to "Gaogao All Stars" as one entity!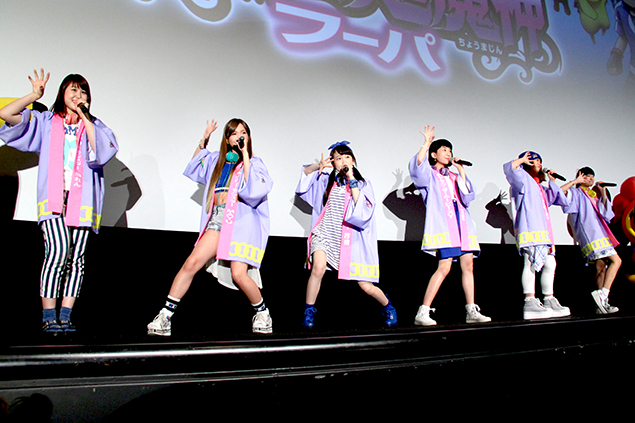 Finally, it's time for a commemorative photo to pray the movie will be a huge hit!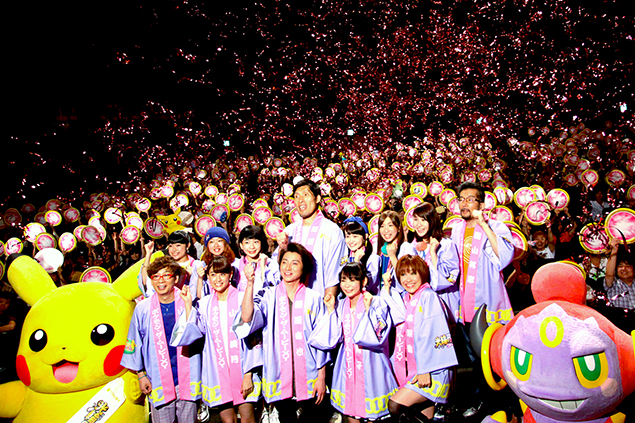 Summer has finally truly started!
Summer means Pokémon!
Go watch the Pokémon movie in the theater this summer vacation!!
"Pokémon the Movie XY: The Archdjinni of Rings - Hoopa/Pikachu and the Pokemon Musicians" is now in theaters!
Source:
http://www.pokemon-movie.jp/pokemovie_ch/?p=1547