The official Pokémon movie website has updated the movie blog and "Celebrity Pokémon Fans' "I Choose You"". Translations follow:
Celebrity Pokémon Fans' "I Choose You" #5: Hyadain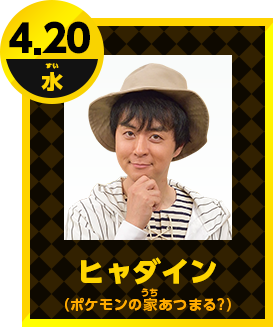 It's overwhelmingly difficult to get and has a real mean expression!
Truly the distinguished air of a Sacred Beast!
Nyarth's Pokémon Elections Diary #5: Holding a soapbox speech!
When you think of elections, you think of soapboxing!
I'm gonna go out on the street and let passerbys know what my deal is!
Um, attention everyone!
My name is Nyarth,
I am currently running in the "Pokémon Elections 720"!
I have given a loooot of thought to matters concerning both Pokémon and humans!
Um, in the event that I win,
I will be given to you all.
I hope you will treat me with love and care.
All I ask for is that you'll give me my regular afternoon snack.
... ...
Nobody's listening...
Hey, Dogohmb! Could you put my speech on the speakeeeers?
...
......
.........
People just yelled at me for making so much noise!
But hey, I'm sure that made my name more well known!
Send in a vote for meee!!
Sources:
http://www.pokemon-movie.jp/election/comment.php
and
http://www.pokemon-movie.jp/pokemovie_ch/?p=1919