The official Pokémon movie website has updated the movie blog and "Celebrity Pokémon Fans' "I Choose You"". Translations follow:
Celebrity Pokémon Fans' "I Choose You" #7: Rinka Otani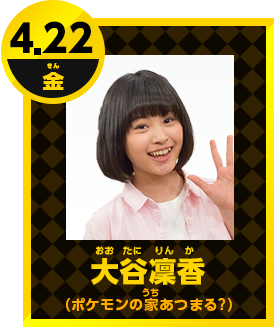 I love the contrast between how cool it looks when it uses a move and how its eyes look cuter and cuter the more I look at them!
Nyarth's Pokémon Elections Diary #7: Leaving the House is Your Chance!
All this unfamiliar election work is tiring me out.
I need some rest to be able to keep fighting in the "Pokémon Elections 720".
So this weekend, I plan to take a good rest.
Tabunne-chaaaan, could you use "Heal Pulse" on me?
What are you doing, Whalko? I didn't say "Water Pulse"!
...
...
Either way, do you guys have any plans for the weekend yet?
What? You still don't have any real plans!?
In that case, I'll tell you how to have a great weekend!
Just leave this to me!
What do you think about going to the movies, for instance?
The theaters that show Pokémon movies are currently playing the trailer for this summer's Pokémon movie.
If you buy the special pre-order ticket at a theater, it'll come with a "Full Pokémon Gathering" poster as a special theater purchase bonus!
And they have "Pokémon Elections 720" ballots there too.
You went to the movies last week? How about going shopping, then?
If you're going to buy Pokémon merchandise, you should go to your local Pokémon Center or Pokémon Store!
And since they put up "Pokémon Elections 720" ballot boxes there, you can vote directly through the stores.
If you don't have access to a Pokémon Center or a Toys 'R' Us, they also have "Pokémon Elections 720" ballots at Ito-Yokado stores, Aeon stores and other places.
You should take the opportunity to vote while you're out shopping groceries.
You don't want to go outside at all?
How about staying home and reading some comics, then?
The May issue of Corocoro Comic is currently on sale.
The "Volcanion and the Ingenious Magearna" manga is serialized there,
but most importantly, it lets you vote in the "Pokémon Elections 720" via a postcard!
What? You don't want to
do
anything at all!? You just want to take it easy around your neighborhood?
Well, there's nothing to be done about that! Just stock up on some snacks from your local convenience store and go slack off.
If you take your Nintendo 3DS to a 7-Eleven, you can vote via the "7-Spot" service!
In other words, no matter where you go and what you do, you can participate in the "Pokémon Elections 720"!
Send in a vote for meee!!
Sources:
http://www.pokemon-movie.jp/election/comment.php
and
http://www.pokemon-movie.jp/pokemovie_ch/?p=1939