The official Pokémon movie website has updated. Translations follow:
A Report from the Public Dubbing Event
A public dubbing event was held in Tokyo on Thursday, June 13th, 2019.
Present at the event were Masachika Ichimura, who plays the legendary Pokémon Mewtwo, Sachiko Kobayashi, who plays Voyager, the female manager of the wharf, in addition to singing the movie's theme song "Kaze to issho ni" alongside Shoko Nakagawa, and Koichi Yamadera, who plays the mythical Pokémon Mew.
Ichimura playfully imitated Mewtwo's pose
when he entered the venue and saw the giant poster with Mewtwo on it.
The scene Ichimura was going to perform
was the famous "Who am I?" scene that nobody who saw the first movie could possibly forget.
The reporters broke out in thunderous applause in response to his brilliant delivery,
which Ichimura followed up with a whispered and reserved "What did you think?"
Director Yuyama explained that for this movie, they recorded Ichimura's line ahead of time and then animated to the audio.
Transferring Ichimura's acting to the animation like this, he said, made for an even more realistic Mewtwo.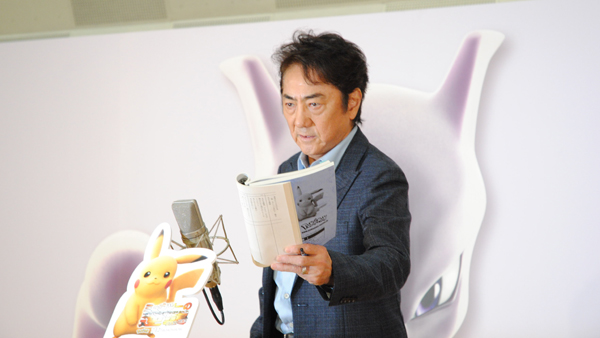 Next up was the scene at the wharf, which Sachiko Kobayashi was going to perform.
Once again the audience applauded the sharp and magnificent performance.
Director Yuyama added that this time around, Voyager has been changed into a strong veteran that has protected the wharf for a long time.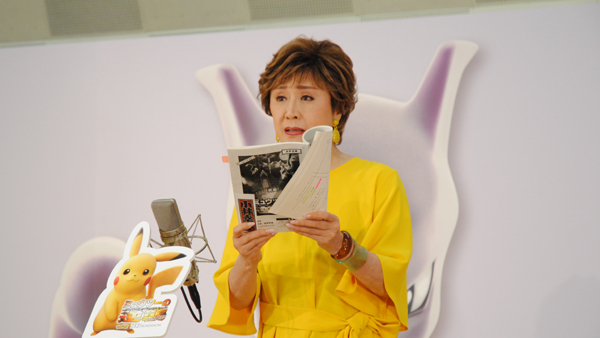 Next up was the tense scene with Mewtwo and Mew just prior to their battle.
The audience was mesmerized by the realistic interplay between Ichimura and Yamadera.
Ichimura even got so caught up in his acting that his hand instinctively struck the Mewtwo pose.
As for Yamadera's performance of Mew, it was so good it made Director Yuyama say "For a second there I thought that really
was
Mew!"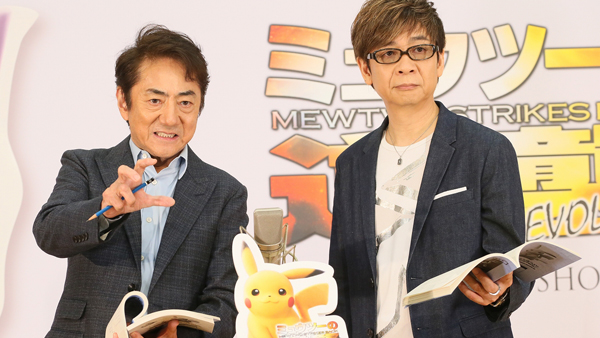 After the dubbing was over,
Ichimura was asked how he felt when he was offered the role of Mewtwo. His reply of "I couldn't have
been
less surprised" made the audience roar with laughter.
Kobayashi, who's also well known and beloved by the younger generation under the nickname "Last Boss", was asked how the Pokémon movies had influenced her career as a singer, and replied "It's no exaggeration to say that the origin of the Last Boss is the now 21 year old "Kaze to issho ni"".
Finally, Yamadera was asked about his thoughts on the movie,
and replied "This will be a movie that will once again touch the heartstrings of those that watched it 21 years ago,
and also forever remain in the hearts of the children watching it for the first time."
There's about 1 month left until the movie premieres! Look forward to it!!
Source:
https://www.pokemon-movie.jp/news/?p=3670