Pokémon: Symphonic Evolutions has
announced a new stop on their tour
, this time in Paris, France for two shows on Saturday, October 8th, 2016 at 8:00PM and Sunday, October 9th, 2016 at 2:00PM at
Le Grand Rex
. Ticket prices range form 49,00 € to 139,00 € depending on the seat.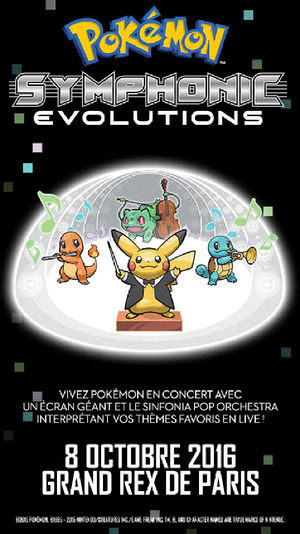 Press Release
Overlook Events présente Une production Princeton Entertainment
Pokémon: Symphonic Evolutions Embarquez pour un voyage musical et épique !
Imaginé et créé pour un orchestre complet, Pokémon: Symphonic Evolutions offre aux fans et aux nouveaux venus de tous âges la chance de vivre l'évolution de la série Pokémon comme jamais auparavant !
Retrouvez vos amis pour attraper, battre et échanger les Pokémon de vos jeux favoris, et découvrez des arrangements orchestraux totalement inédits, synchronisés avec une projection sur écran des jeux Pokémon récents et classiques :
Pokémon Red and Pokémon Blue
Pokémon Yellow
Pokémon Gold and Pokémon Silver
Pokémon Crystal
Pokémon Ruby and Pokémon Sapphire
Pokémon Emerald
Pokémon Diamond and Pokémon Pearl
Pokémon Platinum
Pokémon Black and Pokémon White
Pokémon X and Pokémon Y
« Pokémon: Symphonic Evolutions est un show spectaculaire des plus célèbres musiques de la franchise Pokémon depuis 20 ans. Le concert est une forme de remerciement pour les fans et une invitation à partager notre passion pour Pokémon en faisait revivre les meilleurs moments vécus avec la série. Nous attendons les fans de tous âges à venir savourer ensemble cet évènement orchestral Pokémon. » J.C. Smith, Pokémon Company International
En présence de la chef d'orchestre Susie Benchasil Seiter, du compositeur et arrangeur Chad Seiter et du directeur artistique et producteur Jeron Moore, interprété par le Sinfonia Pop Orchestra.
« Les fans de la première heure vont adorer revoir leurs souvenirs d'enfance joués juste devant eux. » – Game Music Online
« C'est quelque chose de purement magique que vous devez absolument expérimenter par vous-même ! » – Hardcore Gamer
Sources:
http://grandrex.fnacspectacles.com
and
http://www.pokemonsymphony.com