HELLO WORLD【初回生産限定盤】
HELLO WORLD [shokai seisan gentei-ban]
HELLO WORLD [First Press Limited Edition]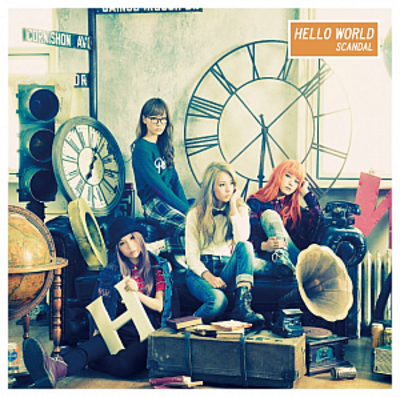 Details
| | |
| --- | --- |
| Artists: | SCANDAL |
| Catalog #: | ESCL-4324~4325 |
| Release Date: | 2014-12-03 |
| Media Type: | CD |
| Discs/Tracks: | 13 tracks on 1 disc |
| Price/MSRP: | ¥3,666 |
| Runtime: | 53:20 |
Description:
The girl band "SCANDAL" represents Japan! The new album you've been waiting for! The momentum just won't stop! The Evolutionary Girl Band's sixth original album! Since their debut in 2008, SCANDAL has been steadily achieving successes such as winning the Japan Record Award for Newcomer of the Year and recording 5 consecutive top 5 albums since their debut. 2014 has seen them successfully tour east and west, including 2 days at Yokohama Arena, and with the release of "Meteor Shower at Dawn" in July, they have become an extraordinary phenomenon, with their 19th record-breaking sales! This is an ambitious piece of work that not only has a more self-produced feel to it, but also tries out new expressions with the participation of famous producers such as Kameda Seiji and Komuro Tetsuya. The best girl rock album of the year is complete.
ガールズバンド日本代表"SCANDAL"!待望のニューアルバム!! 勢いは止まらない! 進化系ガールズバンドの6作目のオリジナルアルバム!! 2008年デビュー以来、日本レコード大賞新人賞の受賞や、デビュー以来アルバムは5作連続でTOP5を記録するなど着実に実績をあげているSCANDAL。2014年に入っても横浜アリーナ2days含む東西アリーナツアーを成功させ、7月に発売された「夜明けの流星群」では19枚目にして過去最高の売上を更新するなどまさに進化系!今作はセルフプロデュース色を強めるとともに、亀田誠治氏、小室哲哉氏といった名プロデューサーも参加するなど新たな表現にもトライした意欲作! 今年一番のガールズロックアルバムの完成です。
DVD Track:
1.SCANDAL Talking about "HELLO WORLD"