めざせポケモンマスター/ひゃくごじゅういち [完全生産限定7inchアナログ盤]
Mezase Pokémon Master [Kanzen seisan gentei 7 inch Analog-ban]
Aim To Be A Pokémon Master [Limited Edition 7 inch Analog Vinyl]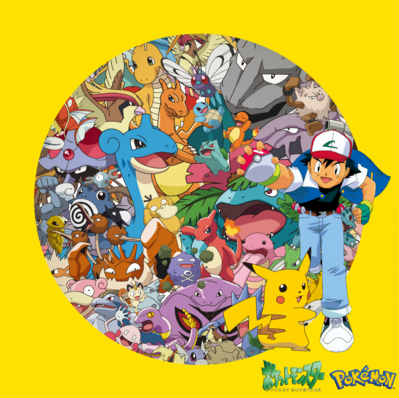 Details
| | |
| --- | --- |
| Artists: | 松本梨香, 石塚運昇 |
| Arists (Alt): | Rica Matsumoto, Unshō Ishizuka |
| Catalog #: | MHKL-85 |
| Release Date: | 2023-12-27 |
| Media Type: | Vinyl |
| Discs/Tracks: | 2 tracks on 1 disc |
| Price/MSRP: | 2,970円 |
| Runtime: | 08:10 |
Description:
The first opening song Aim To Be A Pokémon Master (
Rica Matsumoto
) and the ending song "151" (Professor Okido (
Unsho Ishizuka
) and the Pokémon Kids) from the Pocket Monsters anime was released on December 27th, 2023 as a 7-inch vinyl in limited quantities. A
special website
was opened to promote the vinyl release.
Both songs were
originally released
as a 8cm CD single in 1997, but this will be the
first time
that they will be released on vinyl for sale.
Extras:
① Removable! Satoshi & Pikachu transparent sticker (W87 x H127mm) - A tribute to the removable Pikachu sticker that was a bonus item with the 8cm single released in 1997!
② Pokémon Zukan-shaped Foldable Card (H120 x W82mm) - A Foldable card in the shape of a Pokémon Zukan. The card is folded twice to resemble a Pokémon Zukan, which will certainly be a joy to hold.
Store Exclusives:
Amazon.co.jp: Mega Jacket
HMV: Nostalgic Postcard Scene (with sticker) (Fushigidane design)
TOWER RECORDS: Nostalgic Postcard Scene (with sticker) (Hitokage design)
Sony Music Shop: Nostalgic Postcard Scene (with sticker) (Zenigame design)
Other Stores: Nostalgic Postcard Scene (with sticker) (Pikachu design)
Images