Pokémon Diamond and Pearl: 4-Movie DVD Collection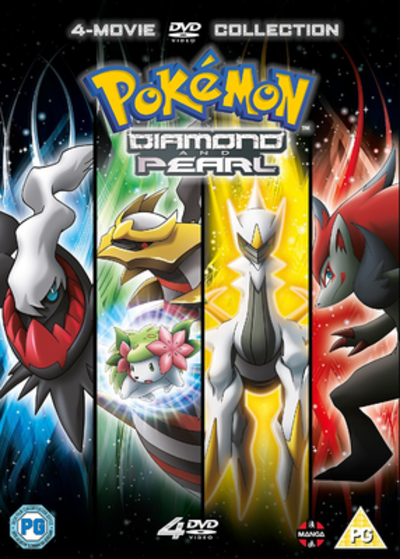 Details
Audio Tracks:
English
Publisher:
Manga Entertainment
Catalog #:
Release Date:
2018-05-21
Aspect Ratio:
16:9
Region Code:
Video Format:
PAL
Storage Medium:
DVD5
Closed Captions?:
No
Rental Only?:
No
Price:
Description
Collects the Diamond & Pearl saga of films - The Rise of Darkrai, Giratina and the Sky Warrior, Arceus and the Jewel of Life, and Zoroark - Master of Illusions.
The Rise of Darkrai
While on their way to a Pokémon Contest, Ash and his friends pass through Alamos Town, home of the Time-Space Tower. Something, it seems, is inflicting terrible nightmares on Pokémon and people alike! The dashing but arrogant Baron Alberto immediately blames Darkrai...but is Darkrai fiend or friend? Meanwhile, a battle between Legendary Pokémon Dialga and Palkia rages above town, threatening to tear a hole in the time-space continuum! Will Ash and his friends survive this showdown and learn Darkrai s true nature?
Giratina and the Sky Warrior
Deep in the heart of a mysterious forest, a Pokémon named Shaymin stumbles into the midst of a battle between two powerful Pokémon, Dialga and Giratina. Ash and his friends meet up with the feisty Pokémon and discover their common interests a love of nature and a wish to explore the connections between humans and Pokémon. But in a spectacular turn, a Pokémon of legendary status awakens the colossal Regigigas! How will Ash and his friends get out of this predicament?
Arceus and the Jewel of Life
Long ago, Arceus granted a fragment of its awesome power to help the town of Michina in its hour of need, only to be betrayed when it was time for that power to be returned. Now Arceus enraged, vengeful, and seemingly unstoppable has returned to reclaim that stolen power. Ash and companions may have discovered a way to set things right. But will they have time to return the Jewel of Life before Arceus destroys everything and everyone they ve ever known?
Zoroark - Master of Illusions
The Pokémon Baccer World Cup is the most anticipated event of the year. As hundreds flock to Crown City to watch the exciting competition, Ash, Pikachu, and his friends encounter a mysterious new Pokémon they have never seen before Zorua. Suddenly, the Legendary Pokémon Raikou, Entei, and Suicune show up, rampaging through the streets while the mighty Zoroark unleashes its fury on the town. Can Ash and companions find enough courage, strength, and friendship to unearth the mystery and save Crown City?
Images