The anime rerun episode for this week was 'The Soaring Legend - Hiroshi and Fire!' which features Hiroshi, one of Satoshi's rivals. While traveling, Hiroshi encounters Silver, a Pokémon trainer searching to capture Fire. Will he be able to capture the legendary Pokémon Fire or will Rocket Gang manage to capture it?!
After the rerun episode, Robert and TIM discuss their reactions to it briefly before Professor Red wondered where Shoko was. Moments later, Shoko walks through the sliding doors holding a Mew. Golgo decides to play a quick game of Peak-a-Boo with it but lets off a fart near Robert causing them to move away and try to blow the smell away. Akiyama takes Mew from Shoko and holds it in his hands for a few moments until it fly's up into the air and disappears. Everyone is surprised that it disappeared and all wondered where it when.
For this weeks Pokémon Daisuki Project, Robert goes searching for the Phantom Pokémon Mew that disappeared from the studio. Robert tries meditating to see if they could contact Mew while enduring many distractions. After their mediation session, Mew appears outside the window and Robert quickly pursues it. Their chase takes them to a forest where they have to overcome a lot of obstacles. After a day of chasing it, Mew disappears and Robert are disappointed that they couldn't keep up with it. Yamamoto then gets a phone call from Shoko telling him that Mew has returned to the studio with her.
Afterwards,
the Mew campaign
was announced. From Friday January 29th, 2010 to Sunday February 28th, 2010, patrons of the Pokémon Centers will be able to pick up a Mew (A5) file folder and a Mew TCG play mat for free!
Beginning January 29th, 2010 and ending on February 11th, 2010, players of the Japanese version of Pokémon Diamond, Pearl, Platinum, HeartGold, or SoulSilver will also be able to receive a Mew. Mew is Level 5 and has a Premier Ribbon. The only move it knows is Pound (はたく). This event was
previously announced
in November 2009 when the Mew event was limited to only Pokémon HeartGold and SoulSilver. Players can receive the Mew via Nintendo Wi-Fi connection, Nintendo Zones (like McDonalds) and the DS stations.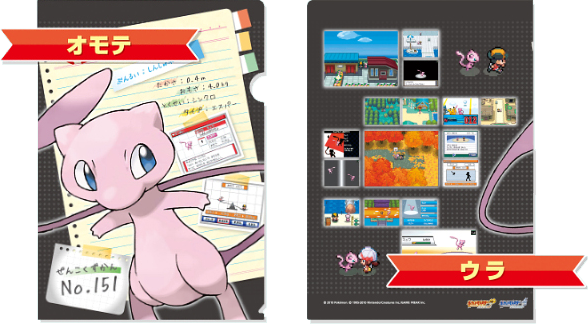 Mew (A5) file folder
Pokémon Battrio Leader Sho
was on during the Pokémon Game Arena segment to promote Pokémon Battrio 0 'Sky-ripping Rayquaza' (ポケモンバトリオ 0 「空を裂くレックウザ」) newest expansion to the game.
Pokémon Battrio Leader Sho
battled against Baba. Sho used Latios, Latias and Rayquaza while Baba countered with Luxio, Elekid and Nuoh. The Sunday crew chanted Baba's name as he started off the battle quite well but Sho showed his skills and quickly defeated Baba.
Before the show ended, Sho
announced the 6 promo pucks that will be available in McDonald's Happy Meals in Japan
also starting January 29th. The 6 pucks include: Pochama, Pikachu, Pichu, Meganium, Bakphoon and Ordile. The Pokémon Battrio 0 manual is also included with the puck so that new players can understand the game. Players who use one of the special pucks will be able to unlock Mew for a special battle.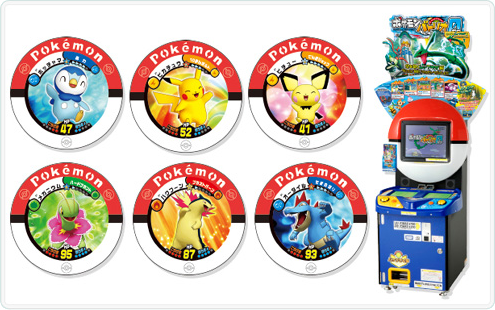 McDonald's Happy Meal Pucks
During the Pokémon Sunday News segment, a demo for the upcoming DS game Pokémon Ranger - Paths of Light, set to be released March 6th, was announced. The demo will be available at Nintendo Zones and DS Stations from January 29th. Also, a new Pokémon Ranger Corner will begin airing on February 14th, 2010, episode number 278. An animated short will appear during that segment at some point. No further information was revealed.