Bye Bye Butterfree (ヤドンがヤドランになると)
was this weeks repeat episode. The episode featured the departure of
Satoshi's Butterfree
as it was released and the two parted ways.
To promote the upcoming 1 hour special of Pocket Monsters Diamond and Pearl that is airing on April 1st, 2010 in Japan, the Pokémon Sunday crew decided to hold a Substitution Quiz in studio. They started off the show by playing the current opening theme for the series,
The Greatest・Everyday!(サイコー・エブリディ!)
sung by Akiyoshi Fumie (あきよしふみえ). Akiyama, who was sporting a new hair style, seemed to really enjoy the song and danced around a bit as it played. A preview for the upcoming episodes was then shown.
Robert visited a local kindergarten class where they switched places with the teacher. Yamamoto was the first to switch places with the teacher and when the kids opened their eyes they were able to identify him. Baba went next and hid behind a cardboard box. Two new kids were able to also identify Baba. Akiyama was the final member of Robert to switch with the teacher and the two girls ended up running out of the classroom, obviously to the dismay of Akiyama.
During the Pokémon Sunday News segment, Hikozaru reminded viewers of the currently available mission that can be downloaded off of Nintendo Wi-Fi Connection. The
Protect the Legendary Blue Orb! (でんせつのあおいたまをまもれ!)
mission will be available for download until May 17th, 2010.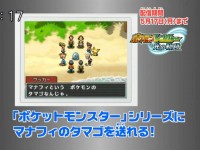 Click on images for higher quality
For the final segment of the show, the Pokémon Game Arena, the cast played a mock TCG game where Pokémon types would be how they declared the winner as they showcased cards from the preview TCG sets as well as the upcoming TCG expansion
Lost Link (ロストリンク)
. The set will be available starting April 16th, 2010. Below are screenshots of the cards that were revealed on the show.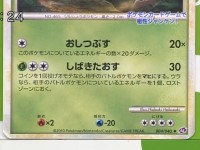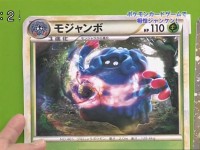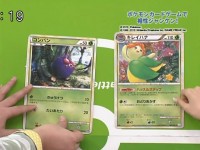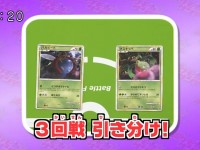 Click on images for higher quality
Mojanbo (モジャンボ)
Grass - HP110
Illustration: Hideaki Hakozaki
Retreat Cost: 4
Weakness: Fire x2
Resistance: Water -20
Card Number: 4/40
Kongpang (コンパン)
Grass - HP50
Illustration: Hideaki Hakozaki
Weakness: Fire x2
Retreat Cost: 1
Card Number: 1/40