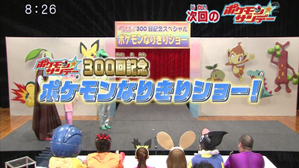 Available On:
2010-07-25 対決! 巨大ナマズンと釣り名人!! / 300回記念SP第2弾・「ポケモンなりきり写真」のグランプリを発表 / ポケモンBWのトリプルバトルに挑戦!
2010-07-25 Taiketsu! Kyōdai Namazun to tsuri meijin!! / 300kai kinen SP dai2dan - 'Pokémon narikiri shashin' no Grand Prix wo happyō / Pokémon BW no triple battle ni chōsen!
2010-07-25 Showdown! The Giant Namazun and the Fishing Master!! / 300th Episode Commemoration SP part 2 - Announcing the 'Pokémon Cosplay Photo' Grand Prix / Pokémon BW Triple Battle Challenge!