The announcer started the show by saying "Okay, it's time again! Let's kick off Pokémon Entertainment show, Pokémon Smash! Here we go!". The show starts with the crew playing with a remote controlled Pikachu and Mijumaru on the floor. They are new toys from
Takara Tomy Pokécon Here and There Pikachu and Mijumaru (ポケコン あっちこっちピカチュウ・ミジュマル)
. The remove looks like a monster ball and Shoko-tan passed it to Golgo who wanted to try it. Yamamoto suggested they have a race which Yamamoto ended up winning with Mijumaru. A commercial for the toys also aired during one of the breaks in the live action segment.
An imageboard thread with pictures of the toys is available by clicking here
.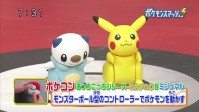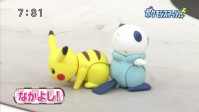 Click on images for higher resolution
Baba introduced this weeks rerun episode as part of the Pokémon Library and he also announces this weeks theme, Everyone has a chance to become a hero!(だれにでもヒーローになるチャンスがある!). This weeks Pokémon Library rerun episode was
It's Children's Day, Everyone Gathers (こどものひだよぜんいんしゅうごう)
from the
original series
.
A full summary of that episode is available in the episode guide
. Red said the go-to line 'OK! Pokémon Library!' to start the repeat episode.
After the Pokémon Library episode aired, the Internation Division girls showed up minus Maria who was still absent. Some of the Smash crew members decided to recommend various sporting attractions in Pokémon Black and White. Akiyama was the first person and he recommended walking across the Skyarrow Bridge. Hana went next and recommended the Rollercoster at the Raimon City gym. Baba then suggested the Ferris wheel at Raimon City and finally Shoko-tan recommended a boat ride from Hiun City.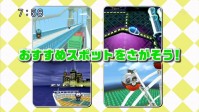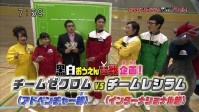 Click on images for higher resolution
The VTR card battle was then revealed. For this battle,
Teacher Takashima
returned to help them out. The teams were split with Robert on Team Zekrom and the International girls on Team Reshiram. 100 points would be awarded to the team that won the battle and would be updated on the running score on the movie website. With Maria away, the International division needed another team player so
Bobby Ologun
was a guest on the show and he joined Team Reshiram with the girls. Robert were quite afraid of him as he came in kicking and punching.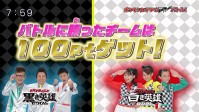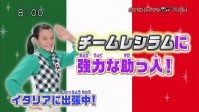 Click on images for higher resolution
For this card battle, the teams would be using cards from the
Cobalion, Terrakion, Virizion Battle Decks (バトル強化デッキ ビリジオン・テラキオン・コバルオン)
. Hana would be the leader for Team Reshiram and Baba for Team Zekrom. Team Zekrom picked Voltolos (BW1 019/053R) as their first card while Team Reshiram chose Chillaccino (BW1 045/053U) as their first card.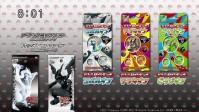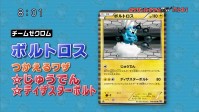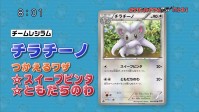 Click on images for higher resolution
On the bench Bobby was Virizion (BK 013/14) while Yamamoto was Terrakion (BK 013/14). Hana's Team Reshiram started first and she picked up the trainer card Switch and a Fire energy. She applied the Fire energy to Misaki who was Darumakka (BW1 009/053C). The energy card was enough to use Singe (こがす) on Akiyama Voltolos. To emulate the Singe attack, they brought out a microwave with a hot towel and placed it on Akiyama's face. Black dirt was also on the towel to make it look like Akiyama's face got singed. The attack burned Voltolos and dealt 20 damage lowering his HP to 90.
Baba picked up the Trainer card Cheren, the Trainer card Switch, a Lightning energy and a Trainer card PlusPower. Baba applied a Lightning energy card to Akiyama Voltolos. To emulate the Charge (じゅうでん) attack, Akiyama gave Bobby a shock pen which he got shocked from but Akiyama also ended up shocking himself with it but the move gave Voltolos an extra Lightning energy. Akiyama Voltolos then took 20 burn damage lowering his HP to 70.
Hana picked up Chillarmy (BW1 044/053C) and changed Bobby to it. She then applied a Fire energy to Chillarmy Bobby. Akiyama Voltolos then took 20 burn damage lowering his HP to 50. Baba picked up the Trainer card Energy Search, he also got a Lightning energy which he applied to Akiyama Voltolos. That gave it enough energy to use Disaster Bolt which does 80 damage. The move was used against Misaki and a man with a Thunderbolt fan hit her on the head. That was enough to knock out Misaki Darumakka (BW1 009/053C).
Team Reshiram sent out Chillarmy Bobby (BW1 044/053C) and Hana picked up Kumasyun, Cheren Trainer, Monmen (BK 003/014) and a Water energy. She put Monmen and Kumasyun on the bench. She then evolved Chillarmy into Chillaccino and added a Water energy to it. Bobby then used Do the Wave (ともだちのわ) which does 20 damage times the number of Pokémon on your Bench. Team Reshiram had 3 Pokémon on their bench so the attack could deal 60 damage. To emulate the attack, Akiyama put his head through a board and Bobby hit him by slapping two foam hands together on Akiyama's head. It was enough damage to knock out Akiyama Voltolos.
Team Zekrom sent out Yamamoto Terrakion. Baba attached a Fighting energy and they ended their turn. Hana then used Cheren to get 3 cards: A new Darumakka (BW1 009/053C), Kurumiru (BK 001/014) and a Grass Energy. Hana then applied a Grass energy to Virizion on their bench. She then put Darumakka and Kurumiru on the bench. Bobby then used Do the Wave (ともだちのわ) again and since there was 5 Pokémon on the bench this time, the attack did 100 damage. Bobby smacked Yamamoto with the foam hands this time lowering Yamamoto Terrakion from 120HP to 20. Team Reshiram's turn was over.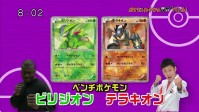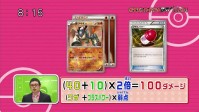 Click on images for higher resolution
Baba applied a fighting energy to Yamamoto Terrakion which gave it enough energy to use Rock Smash. Baba also combined it with PlusPower to upgrade the attack from 40 damage to 100 damage which would be enough to knock out Chillarmy Bobby (40+10)x2 = 100 Damage. To emulate the Rock Smash attack, Yamamoto was given a large wooden pole with a rock at the end of it. He then smashed it against Bobby's head. It knocked him out. Baba then picked up Mogurew.
Team Reshiram sent out Virizion which Misaki would play as. Hana picked up another Grass energy and applied it. That was enough energy to use Giga Drain. Giga Drain was emulated as two guys dressed up as grass things that would come and kiss the Yamamoto. The announcer states: "Oh my gosh!" as Yamamoto obviously wasn't enjoying the experience and probably would have preferred it if Misaki did it instead but then it obviously wouldn't have been much of an 'attack'. Giga Drain was enough to knock Yamamoto Terrakion (BK 013/14) out.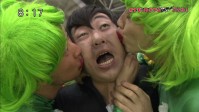 Click on images for higher resolution
Team Reshiram was declared the winner by
Teacher Takashima
and received 100 points.
Black/White Pokémon Cosplay (黒白なりきりポケモン)
A new Black/White Pokémon Cosplay (黒白なりきりポケモン) event was announced a few weeks ago and the narrator reminded viewers of the upcoming event. The event will be put on to promote the new movies
Victini and the Light Hero - Reshiram / Victini and the Dark Hero - Zekrom (ビクティニと白き英雄レシラム / ビクティニと黒き英雄ゼクロム)
and it will be split up by the Zekrom/Black Team and Reshiram/White Team. Each team has specific Pokémon that people can cosplay and they can be found on the different sides of the movie poster.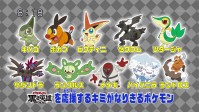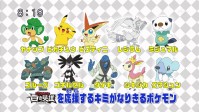 Click on images for higher resolution
People wishing to cosplay as the following Pokémon would be on Team Zekrom/Black Team (Robert): Kibago, Pokabu, Victini, Zekrom, Tsutarja, Sazandora, Lanculus, Nageki, Bivanilla, Landlos.
People wishing to cosplay as the following Pokémon would be on Reshiram/White Team (International Division Girls): Yanappu, Pikachu, Reshiram, Mijumaru, Golugh, Gothiruselle, Dageki, Shikijika, Kumasyun.
During the Marketing Department, 11 year old Nishi Moeka-chan (西萌花). She and Akiyama started off by having a yelling match to see who could say "PokéMorning" the loudest. She then emulated the sound that Koaruhie makes in the anime and then Akiyama tried to do it as well. She battled against Misaki but didn't prove to be that much of a challenge as Misaki handly beat her with the 'Surprise Attack' from Zoroark.
May 2011 Calendar
The May 2011 Pokémon Smash Calendar was posted on the official website. The wallpaper was first showcased on
Pokémon Smash #11
and features Robert doing a Victini pose with their fingers.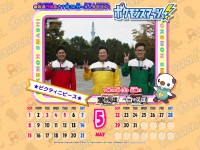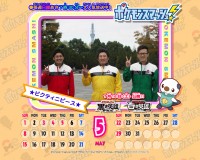 Click on images for higher resolution