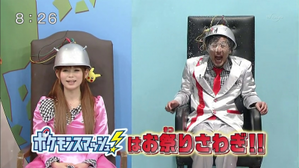 Available On:
2012-05-06 カモネギのカモ / 埼玉県戸田市でポケモンクイズキャラバン、ケルディオになりきってリレー&クイズ! / お家ですぐできるポケモンなりきり講座!
2012-05-06 Kamonegi no kamo / Saitama-ken Toda-shi de Pokémon Quiz Caravan, Keldeo ni narikitte relay & quiz! / Oie de sugu dekiru Pokémon narikiri kōza!
2012-05-06 A Sitting Duck for Kamonegi / A Pokémon Quiz Caravan in Toda, Saitama, with a Keldeo Roleplay Relay and Quiz! / A Pokémon Roleplay Lecture for the Viewers at Home!