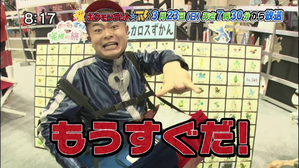 Titles
ポケモンタワーでゲットだぜ! / 第8回「ポケモンずかん完成の旅」セントラルカロスずかん残り38匹を1日で集められるか!?/ ずかん完成で旅はどうなる?
Pokémon Tower de get da ze! / Dai8kai 'Pokémon zukan kansei no tabi' Central Kalos Zukan nokori 38biki wo ichinichi de atsumerareru ka!? / Zukan kansei de tabi wa dōnaru?
Getting one in the Pokémon Tower! / In This 8th Installment of 'The Pokémon Zukan Completion Journey', Will Abareru-kun Manage to Collect All 38 Remaining Pokémon in the Central Kalos Zukan in One Day!? / What Will Happen to the Journey When the Zukan is Complete?
Airdates
OP/ED List
Pokémon Get TV

No notes available for this episode.
Japanese Music:
Music Statistics:
Number of Assigned Tracks to the Japanese Original: 0
Number of Assigned Tracks to the English Dub: 0