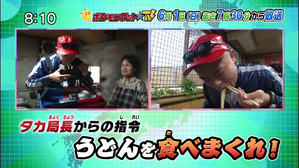 Available On:
2014-06-01 セキチクにんじゃたいけつ! / 第11回(リニューアル第3回)「ポケモンずかん完成の旅」、讃岐うどんが有名な香川県で目標交換数15匹達成なるか!?
2014-06-01 Sekichiku ninja taiketsu! / Dai11kai (renewal dai3kai) 'Pokémon zukan kansei no tabi', Sanuki udon ga yūmei na Kagawa-ken de mokuhyō kōkan-sū 15-biki tassei naru ka!?
2014-06-01 Sekichiku Ninja Showdown! / In the 11th Installment (and 3rd Renewal Installment) of the 'Pokémon Zukan Completion Journey', Will Abareru-kun Manage to Achieve the Goal of Trading 15 Pokémon in Kagawa, Home of the Sanuki Udon!?