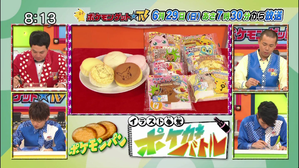 2014-06-29 ガルーラのこもりうた / ポケテレイベント「ポケモン夏の感謝祭2014」のプレゼン大会 / ポケモンパンのデザイン権をかけたポケテレチャレンジ!
2014-06-29 Garura no komoriuta / PokéTele event 'Pokémon natsu no kanshasai 2014' no presen-taikai / Pokémon Pan no design-ken wo kaketa PokéTele Challenge!
2014-06-29 Garura's Lullaby / A Planning Meeting for the 'Pokémon Summer Appreciation Festival 2014' PokéTV Event / A PokéTV Challenge to Decide Who Gets to Design a Pokémon Pan Product!
OP/ED List
Pokémon Get TV

No notes available for this episode.
Japanese Music:
Music Statistics:
Number of Assigned Tracks to the Japanese Original: 0
Number of Assigned Tracks to the English Dub: 0