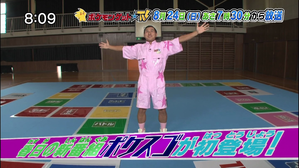 Linked Episode:
Link to Episode Guide
Titles
フシギダネのふしぎのはなぞの / オードリー・春日の新番組「ポケスゴ」登場、巨大化したすごろくゲームの中でポケモンORASの最新情報も大公開!
Fushigidane no fushigi no hanazono / Audrey Kasuga no shin bangumi 'PokéSugo' tōjō, kyodai-ka shita sugoroku game no naka de Pokémon ORAS no saishin jōhō mo daikōkai!
Fushigidane's Mysterious Flower Garden / Kasuga from Audrey Debuts his New Segment 'PokéBoard', where He will Present the Latest Information on Pokémon ORAS Within a Giant Board Game!
Airdates
OP/ED List
Pokémon Get TV

No notes available for this episode.
Japanese Music:
Music Statistics:
Number of Assigned Tracks to the Japanese Original: 0
Number of Assigned Tracks to the English Dub: 0