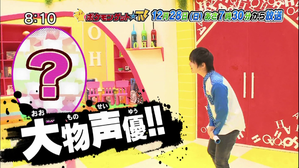 Available On:
Titles
オードリー春日とゆきとディレクターが行く今年ポケテレがお世話になった人たちに年末のご挨拶/しょこたんのひみつきちを大公開!?
Audrey Kasuga to Yukito-director ga iku kotoshi PokéTele ga osewa ni natta hito-tachi ni nenmatsu no goaisatsu / Shoko-tan no himitsu kichi wo daikōkai!?
Kasuga from Audrey and Director Yukito Go Give New Year's Greetings to the People PokéTV Are Indebted to This Year / Shoko-tan's Secret Base Presentation!?
Airdates
No notes available for this episode.
Japanese Music:
Music Statistics:
Number of Assigned Tracks to the Japanese Original: 0
Number of Assigned Tracks to the English Dub: 0