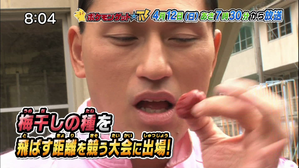 Available On:
Titles
セレナにおまかせ!? 激走サイホーンレース! / 「オードリー春日のコンテストスターへの道」第3回も徳島県、梅干しの種飛ばし大会に参戦 / タカ局長がWCS2015に挑戦!?
Serena ni omakase!? Gekisō Sihorn Race! / 'Audrey Kasuga no Contest Star e no michi' dai3kai mo Tokushima-ken, umeboshi no tanetobashi taikai ni sansen/ Taka-kyokuchō ga WCS 2015 ni chōsen!?
Leave it All to Serena!? The Wild Sihorn Race! / The Third Installment of 'Kasuga from Audrey's Road to Becoming a Contest Star' Also Takes place in Tokushima, Where He Participates in a Pickled Plum Stone Spitting Tournament / Office Chief Taka Tries His Hand on the WCS 2015!?
Airdates
No notes available for this episode.
Japanese Music:
Music Statistics:
Number of Assigned Tracks to the Japanese Original: 0
Number of Assigned Tracks to the English Dub: 0