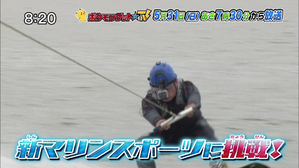 Available On:
Titles
ぶきみな雨宿り! ニャスパーは見ていた!! / 「あばれる君のポケモン交換の旅」ORAS編第7回、関西特大スペシャル後編 / 視聴者バトルはトシプロデューサー!
Bukimi na amayadori! Nyasper wa mite ita!! / 'Abareru-kun no Pokémon kōkan no tabi' ORAS-hen dai7kai, Kansai tokudai special kōhen / Shichōsha battle wa Toshi-producer!
The Eerie Rain Shelter! Nyasper Saw Everything!! / The Seventh Installment of the ORAS edition of 'Abareru-kun's Pokémon Trade Journey' and the Second Part of the Double-Length Kansai Special / The Television Viewer Battle is Against Producer Toshi!
Airdates
No notes available for this episode.
Japanese Music:
Music Statistics:
Number of Assigned Tracks to the Japanese Original: 0
Number of Assigned Tracks to the English Dub: 0