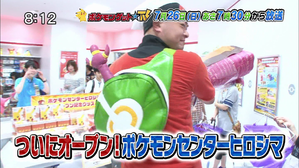 2015-07-26 デビューです! セレナとフォッコでポケビジョン!! / 「あばれる君のポケモン交換の旅」ORAS編第8回は広島 / ロビンのマッスルカード / 夏のポケモンのイベント最新情報!
2015-07-26 Debut desu! Serena to Fokko de PokéVision!! / 'Abareru-kun no Pokémon kōkan no tabi' ORAS-hen dai8kai wa Hiroshima / Robin no muscle card / Natsu no Pokémon no event saishin jōhō!
2015-07-26 Time to Debut! PokéVision with Serena and Fokko!! / In the Eighth Installment of the ORAS edition of 'Abareru-kun's Pokémon Trade Journey', He Goes to Hiroshima / Robin's Muscle Cards / The Latest Information on Pokémon Events This Summer!
No notes available for this episode.
Japanese Music:
Music Statistics:
Number of Assigned Tracks to the Japanese Original: 0
Number of Assigned Tracks to the English Dub: 0