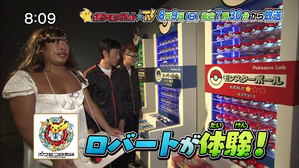 2015-08-09 オーロラの絆! アマルスとアマルルガ!! / ロバートによる「ポケモン実験隊」を放送 / 映画の特別なVTRもオンエア / 視聴者バトルはタカ局長!
2015-08-09 Aurora no kizuna! Amarus to Amaruruga!! / Robert ni yoru 'Pokémon jikken-tai' wo hōsō/ Eiga no tokubetsu na VTR mo on air / Shichōsha battle wa Taka-kyokuchō!
2015-08-09 The Aurora Bond! Amarus and Amaruruga!! / We Will Show Robert's 'Pokémon Experiment Team' / There Will Also be Special Clips from the Movie / The Television Viewer Battle is Against Office Chief Taka!
No notes available for this episode.
Japanese Music:
Music Statistics:
Number of Assigned Tracks to the Japanese Original: 0
Number of Assigned Tracks to the English Dub: 0