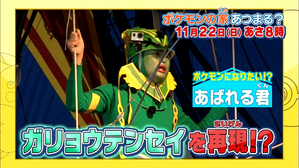 Available On:
2015-11-22 ポケんちにロバートの山本さんと渡辺裕太さんがやって来た / あばれる君がガリョウテンセイを再現! / バトル「山本博VSヒャダイン」!
2015-11-22 Pokenchi ni Robert no Yamamoto-san to Watanabe Yūta-san ga yattekita / Abareru-kun ga Garyō Tensei wo saigen! / Battle 'Yamamoto Hiroshi VS Hyadain'!
2015-11-22 Yamamoto from Robert and Yuta Watanabe Visit Pokénchi! / Abareru-kun Replicates Dragon Ascent! / Battle: Hiroshi Yamamoto VS Hyadain!