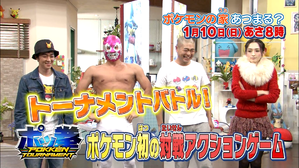 Available On:
Titles
ポケんちでポッ拳トーナメントバトルを開催、ヒャダイン・あばれる君・佐藤かよ・謎のマスクマン「マスクド・トゥース」が参戦!
Pokénchi de Pokkén tournament battle wo kaisai, Hyadain, Abareru-kun, Satō Kayo, nazo no maskman 'Masked Tous' ga sansen!
A Tournament Battle in Pokkén is Held at Pokénchi, with Hyadain, Abareru-kun, Kayo Satoh and the Mysterious Masked Man 'Masked Tous' Competing Against Each Other!
Airdates
OP/ED List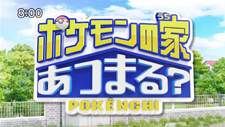 Gathering in the Pokémon House?

No notes available for this episode.
Japanese Music:
Music Statistics:
Number of Assigned Tracks to the Japanese Original: 0
Number of Assigned Tracks to the English Dub: 0