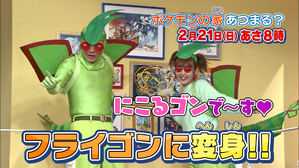 2016-02-21 にこるんが大好きなフライゴンの魅力を紹介 / あばれる君がにこるんとポケものまねに挑戦! / バトル「中川翔子 VS 向井慧」!
2016-02-21 Nicolun ga daisuki na Flygon no miryoku wo shōkai / Abareru-kun ga Nicolun to Pokémonomane ni chōsen! / Battle 'Nakagawa Shōko VS Mukai Satoshi'!
2016-02-21 Nicolun Presents What Makes her Beloved Flygon so Appealing! / Abareru-kun Challenges Nicolun to Pokémonitations! / Battle: Shoko Nakagawa VS Satoshi Mukai!
OP/ED List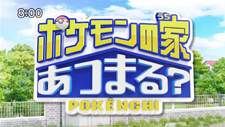 Gathering in the Pokémon House?

No notes available for this episode.
Japanese Music:
Music Statistics:
Number of Assigned Tracks to the Japanese Original: 0
Number of Assigned Tracks to the English Dub: 0