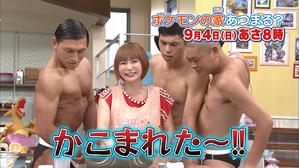 Available On:
Titles
オードリー春日さん&小島よしおさんとポケモンクッキング! / ポケだちのバトルではしょこたんが追いつめられる!?
Audrey Kasuga-san & Kojima Yoshio-san to Pokémon cooking! / Pokédachi no battle de wa Shokotan ga oitsumerareru!?
Pokémon Cooking with Kasuga from Audrey and Yoshio Kojima! / Shokotan Gets Driven into a Corner in a Battle with a Pokénd!?
Airdates
No notes available for this episode.
Japanese Music:
Music Statistics:
Number of Assigned Tracks to the Japanese Original: 0
Number of Assigned Tracks to the English Dub: 0