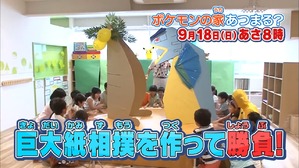 Titles
ポケモン工作であばれる君とりんかちゃんがトントン相撲に挑戦 / オリジナルソングプロジェクトの歌詞が完成!
Pokémon kōsaku de Abareru-kun to Rinka-chan ga tonton sumō ni chōsen / Original song project no kashi ga kansei!
Abareru-kun and Rinka-chan Attempt to Make a Tapping Sumo Game with Pokémon Handicraft / The Lyrics for the Original Song Project are Complete!
Airdates
No notes available for this episode.
Japanese Music:
Music Statistics:
Number of Assigned Tracks to the Japanese Original: 0
Number of Assigned Tracks to the English Dub: 0