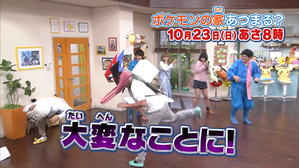 Available On:
Titles
流れ星率いるゲッコウガ軍団とのゲーム対決であばれる君とヒャダインが大ゲンカ!?
Nagareboshi hikiiru Gekkouga Gundan to no game taiketsu de Abareru-kun to Hyadain ga daigenka!?
During a Game Showdown with the Gekkouga Army, aka Nagareboshi, Abareru-kun and Hyadain Start Fighting!?
Airdates
Spanish Latin America Official Summary
El Profesor Sycamore y Alexa exploran unas ruinas, donde descubren una estatua de piedra de una mujer llamada Aila, y surge una leyenda. Una colección de registros de Kalos revela que el verdadero amor de Aila, Jan, intentó derrotar al Pokémon Destrucción Yveltal. Cuando falló, la tierra fue drenada de toda vida pues Yveltal se convirtió en un capullo y convirtió a Aila en piedra.


No notes available for this episode.
Japanese Music:
Music Statistics:
Number of Assigned Tracks to the Japanese Original: 0
Number of Assigned Tracks to the English Dub: 0