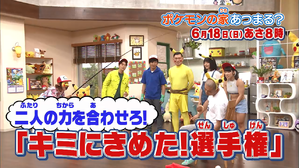 Available On:
Titles
3チームに分かれて以心伝心ゲーム等をする「キミにきめた!選手権」を開催 / サトシのピカチュウ同士でポケモンバトル!
3 team ni wakarete ishindenshin game nado wo suru 'Kimi ni kimeta! Senshuken' wo kaisai / Satoshi no Pikachu dōshi de Pokémon battle!
The "I Choose You! Championship", Where Everyone Splits into 3 Teams and Play Games Like a Thought Sync Game, is Held / A Pokémon Battle Between Multiple Satoshi's Pikachu!
Airdates
No notes available for this episode.
Japanese Music:
Music Statistics:
Number of Assigned Tracks to the Japanese Original: 0
Number of Assigned Tracks to the English Dub: 0