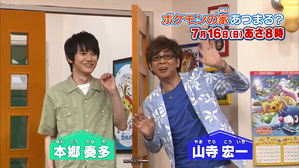 Available On:
Titles
本郷奏多さんと山寺宏一さんが映画の注目ポイントを紹介 / 虹をテーマにしたポケモンサイエンス!
Hongō Kanata-san to Yamadera Kōichi-san ga eiga no chūmoku point wo shōkai/ Niji wo thema ni shita Pokémon Science!
Kanata Hongo and Koichi Yamadera Present Points of Interest in the Movie / Pokémon Science with Rainbow as the Theme!
Airdates
No notes available for this episode.
Japanese Music:
Music Statistics:
Number of Assigned Tracks to the Japanese Original: 0
Number of Assigned Tracks to the English Dub: 0