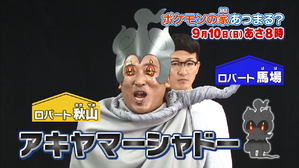 Available On:
2017-09-10 ロバート秋山扮するアキヤマーシャドーがポケんちにみんなを閉じ込める / クイズに正解してポケんちを脱出できるか!?
2017-09-10 Robert Akiyama funsuru Akiyamarshadow ga Pokénchi ni minna wo tojikomeru / Quiz ni seikai shite Pokénchi wo dasshutsu dekiru ka!?
2017-09-10 Akiyama from Robert, in the Role of Akiyamarshadow, Imprisons Everyone Inside Pokénchi / Will They be Able to Complete his Quiz and Escape from Pokénchi?!