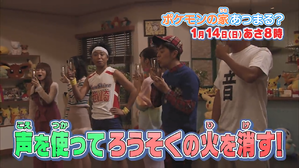 Available On:
Titles
音を使ったポケモンサイエンスに挑戦! / あばれる君がジャラランガ専用のZワザを再現!? /「ポケモン竜王戦」最新情報!
Oto wo tsukatta Pokémon Science ni chōsen! / Abareru-kun ga Jyaranga senyō no Z-waza wo saigen! ? / 'Pokémon ryūō-sen' saishin jōhō!
Attempting Pokémon Science that Utilizes Sound! / Abareru-kun replicates Jyararanga's exclusive Z-Move?! / The Latest Information on the "Pokémon Dragon King Match"!
Airdates
No notes available for this episode.
Japanese Music:
Music Statistics:
Number of Assigned Tracks to the Japanese Original: 0
Number of Assigned Tracks to the English Dub: 0