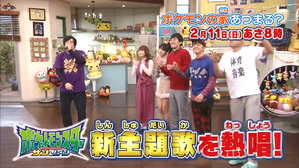 2018-02-11 岡崎体育さんが即興ソング&アニメ新エンディング曲を披露! / 「第3回ポケモン竜王戦」の模様!
2018-02-11 Okazaki Taiiku-san ga sokkyō song & anime shin ending-kyoku wo hirō! / "Dai3kai Pokémon Ryūō-sen" no moyō!
2018-02-11 Taiiku Okazaki Performs an Improptu Song and the New Anime Ending Song! / A Status Report from the "Third Pokémon Dragon King Match"!
No notes available for this episode.
Japanese Music:
Music Statistics:
Number of Assigned Tracks to the Japanese Original: 0
Number of Assigned Tracks to the English Dub: 0