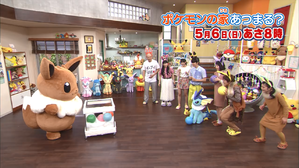 2018-05-06 イーブイが再びポケんちに登場 / イーブイと仲良くなるためみんなでゲームに挑戦! / イーブイファミリーだけでマルチバトル!
2018-05-06 Eievui ga futatabi Pokénchi ni tōjō/ Eievui to nakayoku naru tame minna de game ni chōsen! / Eievui Family dake de multi battle!
2018-05-06 Eievui Visits Pokénchi Once Again / Everyone Attempts Games in Order to Befriend Eievui! / A Multi Battle Featuring Nothing but the Eievui Family!
No notes available for this episode.
Japanese Music:
Music Statistics:
Number of Assigned Tracks to the Japanese Original: 0
Number of Assigned Tracks to the English Dub: 0