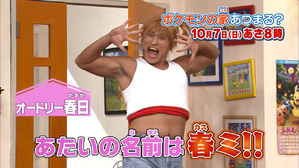 2018-10-07 オードリー春日とボイメン辻本がマッチョなカスミと筋肉バキバキのタッツーに!? / 上腕二頭筋や肺活量を鍛えるゲームに挑戦!
2018-10-07 Audrey Kasuga to Boymen Tsujimoto ga macho na Kasumi to kinniku bakibaki no Tattu ni!? / Jōwan nitōkin ya haikatsuryō wo kitaeru game ni chōsen!
2018-10-07 Kasuga from Audrey and Tsujimoto from Boymen Turn Into a Macho Kasumi and a Muscular Washboard Tattu?! / Attempting Games That Will Strengthen Biceps Brachii Muscles and Lung Capacity!
No notes available for this episode.
Japanese Music:
Music Statistics:
Number of Assigned Tracks to the Japanese Original: 0
Number of Assigned Tracks to the English Dub: 0