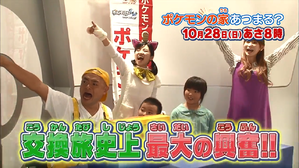 Available On:
Titles
あばれる君のポケモン交換旅、今回は東京都・後編 / ポケだちを求めてポケセンへ、そこにはしょこたんが! / 図鑑完成なるか?
Abareru-kun no Pokémon kōkan tabi, konkai wa Tōkyō-to kōhen / Pokédachi wo motomete PokéCen e, soko ni wa Shokotan ga! / Zukan kansei naru ka?
Abareru-kun's Pokémon Trade Journey, This Installment of Which is Set in Tokyo: Part 2 / Going to the Pokémon Center in Search of Pokénds, Where Shokotan Awaits! / Will the Zukan be Completed?
Airdates
No notes available for this episode.
Japanese Music:
Music Statistics:
Number of Assigned Tracks to the Japanese Original: 0
Number of Assigned Tracks to the English Dub: 0