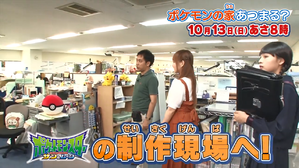 2019-10-13 アニメ「ポケモン サン&ムーン」にアニメーターとして参加することになったしょこたんがアニメを作っている制作会社に突撃!
2019-10-13 Anime "Pokémon Sun & Moon" ni animator to shite sanka suru koto ni natta Shokotan ga anime wo tsukutte iru seisaku kaisha ni totsugeki!
2019-10-13 It's Been Decided that Shokotan is Going to be an Animator for the "Pokémon Sun & Moon" Anime, so She Makes Her Way into the Production Company That Creates the Anime!
OP/ED List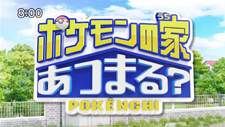 Gathering in the Pokémon House?

No notes available for this episode.
Japanese Music:
Music Statistics:
Number of Assigned Tracks to the Japanese Original: 0
Number of Assigned Tracks to the English Dub: 0