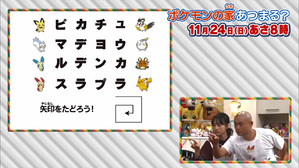 2019-11-24 松丸亮吾が出題するアニメの謎解きにみんなで挑戦!/ あばれる君のポケカ大会の最新情報!
2019-11-24 Matsumaru Ryōgo ga shutsudai suru anime no nazotoki ni minna de chōsen! / Abareru-kun no PokékCa taikai no saishin jōhō!
2019-11-24 Everyone Attempts Ryogo Matsumaru's Anime Riddles! / The Latest News on Abareru-kun's Pokémon Card Tournament!
OP/ED List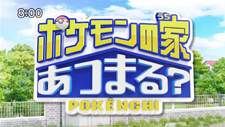 Gathering in the Pokémon House?

No notes available for this episode.
Japanese Music:
Music Statistics:
Number of Assigned Tracks to the Japanese Original: 0
Number of Assigned Tracks to the English Dub: 0