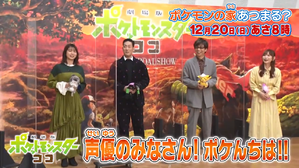 2020-12-20 上白石萌歌と中村勘九郎がポケモンを描く! / フワちゃんVSしょこたん勝負の行方は!? / あばP発案ポケんちオリジナルミュージックビデオ!
2020-12-20 Kamishiraishi Moka to Nakamura Kankurō ga Pokémon wo kaku! / Fuwachan VS Shokotan shōbu no yukue wa!? / Aba-P hatsuan Pokénchi original music video!
2020-12-20 Moka Kamishiraishi and Kankuro Nakamura Draw Pokémon! / How Does the Match Between Fuwachan and Shokotan go?! / Aba-P's Proposed Original Pokénchi Music Video!
OP/ED List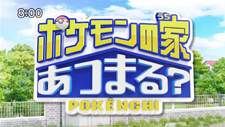 Gathering in the Pokémon House?

No notes available for this episode.
Japanese Music:
Music Statistics:
Number of Assigned Tracks to the Japanese Original: 0
Number of Assigned Tracks to the English Dub: 0