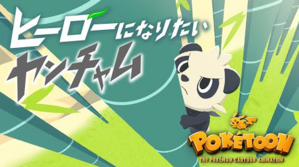 Titles
The Pancham Who Wants to Be a Hero
ヒーローになりたいヤンチャム
Hero ni naritai Yancham
The Yancham who wants to be a Hero
Airdates
Japanese:
Recording Studio
Aoi Studio

English:
| | | | |
| --- | --- | --- | --- |
| | Danii Meger | | Voice Director |
Recording Studio
Digital Sound Magic

Japanese Summary Translation:
This is a story about Yancham, who dreams of becoming a hero and spends his days training.
It seems that Yancham has a problem.
Will Yancham ever become a hero?


Japanese Summary:
ヒーローになりたいとゆめ見て、毎日修行にあけくれるヤンチャムのお話。 そのヤンチャムには、あるなやみがあるみたい。 はたしてヤンチャムは、ヒーローになれるかな?

English Summary:
A tiny Pancham has dreams of glory in "The Pancham Who Wants to Be a Hero," the second episode in this collection of animated shorts. In this adventure, "The Pancham Who Wants to Be a Hero," we meet a little Pancham who is determined to prove its strength after being inspired by a powerful Trainer and his partner Arcanine. Pancham begins to hone its skills, and who knows? Perhaps it will even find a partner of its own.
Characters


Red's Arcanine
レッドのウインディ
Red no Windie
Red's Windie
Wild Pokémon
No notes available for this episode.
Japanese Music:
Music Statistics:
Number of Assigned Tracks to the Japanese Original: 0
Number of Assigned Tracks to the English Dub: 0